Sept. 17, 2014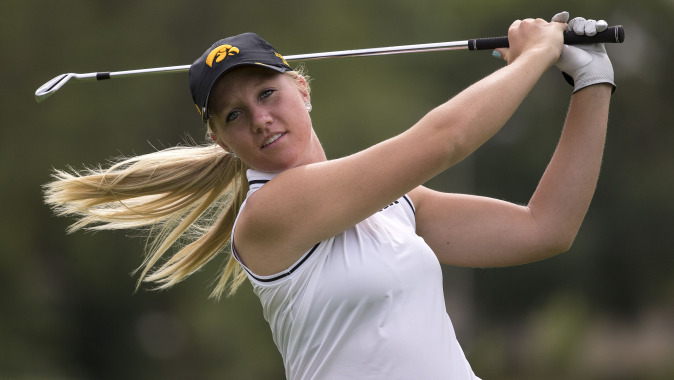 THIS WEEK:
The University of Iowa women's golf team travels to Ann Arbor, Michigan to compete in the 2014 East & West Match Play Challenge, Saturday-Monday. The tournament, hosted by the University of Michigan, features a field of eight teams and will be held at Radrick Farms Golf Course (par 72, 6,292 yards). Live scoring will be available via BirdieFire.com.
TOURNAMENT PLAY:
Thirty-six holes will be played to determine match-play seeding/bracket. From there, the top four teams will advance to the championship bracket, while the bottom four move to consolation. The eight individuals will follow the same format as the teams. Match play will feature five players in head-to-head individual play. The first team to three points (one point for each individual win) will advance. Extra holes will be played as necessary. The first round will begin on Saturday with a shotgun start at 9 a.m. (CT), the second round will start following the completion of the first round. match play will then begin on Sunday at 9 a.m. (CT) the second day of match play will begin at 8:45 a.m. (CT) on Monday.
SINDLINGER, IHM PACE HAWKEYES:
The Hawkeyes registered a 54-hole score 951 (+87) to finish ninth in the field of 15 teams at the Mary Fossum Invitational, Sept. 13-14. Jessie Sindlinger and Amy Ihm led the way for the Hawkeyes last weekend at the Mary Fossum Invitational. Sindlinger posted rounds of 74, 79, and 78 to finish tied for 13th with a 235 (+15). Ihm carded a 239 (+19), posting rounds of 83, 78, and 74. Ihm finished tied for 24th. Both helped the Hawkeyes earn a ninth place finish.
THE COMPETITION:
The eight team field consists of Iowa, Miami (Fla.), Michigan, Ohio State, Purdue, SMU, UC Davis and Wisconsin. There will also be eight individuals invited for the event from Michigan (two), Wisconsin (two), Iowa, Miami (Fla.), Ohio State and SMU.
HAWKEYES TO WATCH:
Three members of the University of Iowa women's golf team — sophomore Jessie Sindlinger, freshman Elisa Suarez, freshman Jessica Ip — have been selected to the 2014-15 Big Ten Women's Golfers to Watch List, the conference announced Wednesday.
COMING UP:
The Hawkeyes will host the Diane Thomason Invitational on Oct. 4-5 in Iowa City, Iowa, at Finkbine Golf Course.