Sept. 20, 2014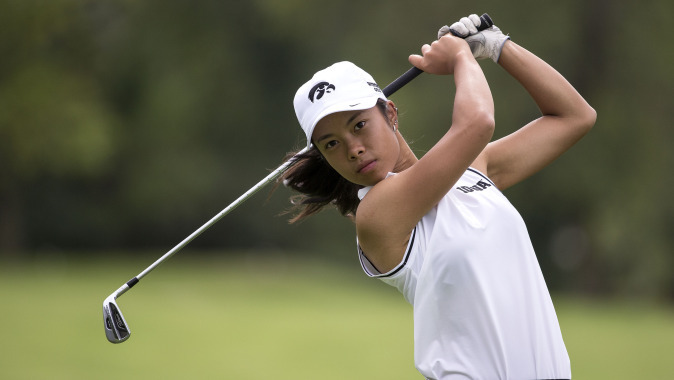 ANN ARBOR, Mich.–After two rounds of golf the University of Iowa Women's golf team finished the stroke-play portion of the East & West Match Play Challenge tallying a 608 (+32) positing rounds of 303, 305. The Hawkeyes finished in sixth out of eight teams at Radrick Farms Golf Course.
"Our team showed some improvement today. It was great to see our freshmen step up and post some solid rounds today," said head coach Megan Menzel. "We are looking forward to our match against Purdue tomorrow."
Freshman Jessica Ip lead the way for the Hawkeyes with a total score 148 (+4) leaving her tied for the ninth spot. Ip, started the day carding a first round 77 (+5) she then fired in an impressive 71 (-1) in the second round. "Ip's top ten outing was good for us," added Menzel.
Freshman Elisa Suarez also had a good outing of her own posting a 151 (+7) carding rounds of 72 and 79 (+7). Suarez stayed consistent in the second round making par on 11 holes, she finished the night tied for 16th.
Jessie Sindlinger registered a first round 79 (+7). She then birdied two holes on the front nine in the second round carding a 75 (+3) in the process. Sindlinger finished the day with a 154 (+10) tied for 25th.
Amy Ihm ended the evening just behind Sindlinger posting a 156 (+12) with round of 76 (+4) and 80 (+8). Senior Shelby Phillips shot a two round 163 (+19) finishing the evening in 47th.
Nicole Rae, competing as an individual, rounded out the Hawkeye line-up posting a 168 (+24) with rounds of 88 (+12) and 80 (+8).
The Hawkeyes resume action tomorrow where they will take on Purdue in match play.