Sept. 21, 2014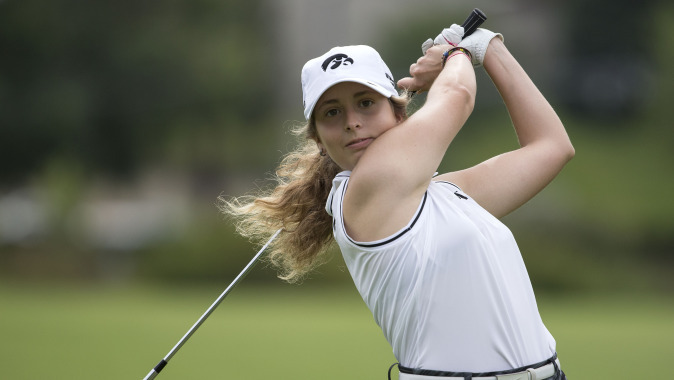 Recap Day 2

ANN ARBOR, Mich.–The University of Iowa women's golf team, concluded its day two action on Sunday with a match against the Purdue Boilermakers in the consolation match play portion of the East and West Match Play Challenge. The Hawkeyes were downed 3-2 and will face Michigan tomorrow.
Iowa Freshmen Elisa Suarez and Jessica Ip lead the way for the Hawkeyes each picking up victories. Suarez defeated Purdue's Marta Martin, 6&5. Ip took care of business as well in a match that went the full 18 holes, defeating the boilermakers Anna Appert Lund, 1-up. However, their efforts proved not enough for the Hawkeyes.
"Suarez and Ip lead the way for us with some solid wins. Elisa's early win gave us some good momentum, but unfortunately we could not pull out the victory that we wanted," said head coach Megan Menzel.
Shelby Phillips was paired off with August Kim in another close match that went the full 18 holes. This time it was Purdue that gained the upper hand on the Hawkeyes as Kim defeated Phillips, 1-up.
Iowa's junior Amy Ihm saw action against Linn Andersson, Andersson grabbed the victory over Ihm defeating her, 2&1. Elsewhere, Jessie Sindlinger went head to head with Purdue's Aurora Kan and it was Kan who got the win, 3&1.
Rounding out the days' action for Iowa was Nicole Rae. The senior participated in an individual consolation matchup with Laura Hendee of Miami. Hendee registered the victory, 4&3.
"We could not pull out a win unfortunately. We are looking forward to the match against Michigan tomorrow," added Menzel.
The Hawkeyes will resume match play tomorrow where they will square off against Michigan.