Sept. 22, 2014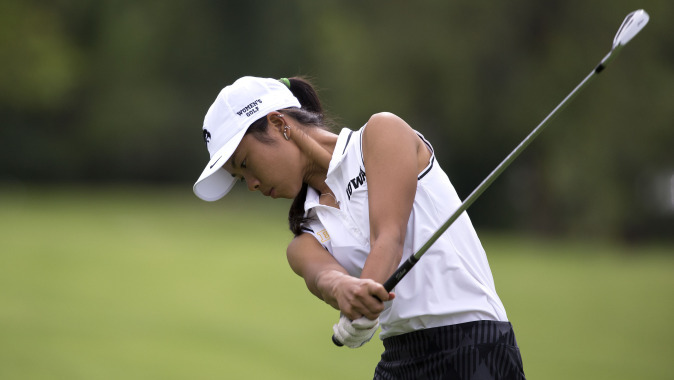 ?
Weekend Recap

ANN ARBOR, Mich. — The University of Iowa women's golf team dropped a 4-1 decision to host Michigan in the seventh place match on Monday in the first annual East & West Match Play Challenge. The event was held at Radrick Farms Golf Course in Ann Arbor, Michigan.
SMU defeated UC Davis for the team championship, 3-2. Ohio State defeated Wisconsin for third place (3-2) and Miami knocked off Purdue (3-2) for fifth place.
The first annual event featured two rounds of stroke play followed by two days of match play. The Hawkeyes entered match play in sixth following rounds of 303 and 305 (608, +32).
Iowa freshman Jessica Ip continued her strong performance at the tournament, registering the lone victory for the team in match play defeating Kathy Lim, 3&2. Elisa Suarez, who also had a very good weekend of her own, went up against Michigan's Grace Choi. Suarez could not keep up the momentum from yesterday's action where she grabbed a victory against Purdue, falling short on Monday to Choi, 3&2.
Ip and Suarez both finished in the top 16 during stroke play. Ip posted rounds of 77 and 71 to tie for ninth, while Suarez posted a 72 and 79 to tie for 16th heading into match play.
"We got to see some very solid play out of Ip and Suarez," said UI head coach Megan Menzel.
Shelby Phillips battled against Michigan's Emily White, but fell 5&4. Amy Ihm's dropped a 3&1 decision to Lauren Grogan.
Sophomore Jessie Sindlinger fell to Julia Montgomery, 6&4.
In the individual championship, Nicole Rae downed Alexandra Celli of SMU, 3&1, to take seventh place.
"It was great to experience match play. It is definitely a different feel than stroke play," added Menzel. "I thought we made a good step forward this weekend and we have a couple weeks to prepare to play at home."
The Hawkeyes have a weekend off before they host the Diane Thomason Invitational at Finkbine Golf Course in Iowa City, Iowa, Oct. 4-5.