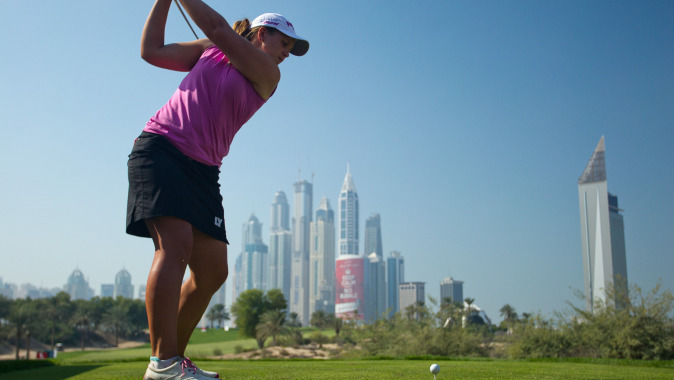 Sept. 24, 2014
Editor's Note: The following first appeared in the University of Iowa's Hawk Talk Daily, an e-newsletter that offers a daily look at the Iowa Hawkeyes, delivered free each morning to thousands of fans of the Hawkeyes worldwide.
Photo Gallery: Liz Young – Ladies European Tour
IOWA CITY, Iowa — Hawkeyesports.com recently caught up with former University of Iowa women's golfer Liz (Bennett) Young of the Ladies European Tour.
Young, a native of Sway Hampshire, England, competed at Iowa from 2001-05. A four-year letterwinner, Young was a two-time Academic All-Big Ten honoree (2003, 2004) and was named Iowa's most valuable team member in 2004 and 2005. She posted three of the top scoring averages in program history.
Following her time in Iowa City, Young went back across the pond and was the 2006 and 2007 English Stroke Play Champion, before becoming the No. 1 English amateur in 2008. She joined the tour in January, 2009.
Young has nine top-10 finishes, including a fourth-place finish at the 2011 Ladies Scottish Open. In 2013, she played in 17 events and made 15 cuts, posting two top-10 finishes. She recorded five additional top 20s and finished 23rd on the Order of Merit: her most successful season in five years on Tour. This season, Young, who married Jonathan Young in April, 2013, tied for fifth at the Slovak Open and finished ninth at the Scottish Open.
What attracted you to the sport of golf as a child?
"My dad always played just like his father. When my older brother took it up I wanted to, so my mom and I took it up together when I was 12 years old. I always liked all sports as a kid, but golf I knew I could keep playing into my later life so I decided to take golf more seriously than the other sports."
What attracted you to the University of Iowa and the Hawkeye women's golf program?
"I wanted to go to a university in America that had a big sports program and its own golf course. I also wanted a university that was in the northern part of the country, as I knew we would have to travel south in the winter to play golf and I wanted to see as much of America while I was out there. I knew I would have good competition at events playing in the Big Ten Conference."
Describe your time as a student-athlete at the University of Iowa:
"I loved it. It was the best four years of my life. I never had a minute to spare and the time went quickly. If I wasn't in class then I would be on the course or in the gym."
How did your time as a student-athlete at Iowa prepare you for the Ladies European Tour, and beyond?
"It was a good stepping stone for me as it got me used to traveling and competing week after week, which is what we have to do on tour. I miss the team atmosphere that we had at Iowa, but you soon make friends on the tour. Being at Iowa taught me to manage my time as I had to fit training and classes into the day. That is also very important now as a pro, managing practicing, traveling, and competing."
What are some of your favorite memories from Iowa?
"Tailgating at Iowa was a new experience for me, but the atmosphere at any Iowa sporting event was amazing. I had never seen so many fans at a college game. It didn't matter what sports event you were at, they were all great. I will never forget the road trips we took to events."
Do you still stay in contact with some of your teammates?
"Yes, social media is a great way to stay in touch and see what all my teammates are doing now. I stay in close contact with Lauren Cole (2002-05). We usually catch up once a month on the phone."
Since joining the Ladies European Tour in January, 2009, what are some of your favorite memories, favorite tournaments:
"I love playing in Dubai each year. I love the course and the weather is always perfect. It is our end-of-year tournament so everyone is in a great mood. Playing in the British Open is always a great experience, but last year when it was at St. Andrews it seemed extra special, especially when I made the cut.
"Last year I played a couple of times in the final group on the last day, which was a great experience."
What are some of your favorite courses to play in Europe?
"In Europe, my favorite golf course on tour is Vasatorp Golf Club which is in Helsingborg, Sweden. My favorite in England on tour is the Buckinghamshire Golf Club in London, but my tour favorite is The Emirates Club in Dubai."
Outside of golf, what do you enjoy doing with your time?
"I love it when I am back home and I get to spend time with my husband and friends. I like to go for walks with my husband along the sea wall or in the forest. I am very lucky where I live as I have a National Park on my doorstep, and I live a mile from the sea."
The University of Iowa women's golf team returns to action Oct. 4-5, hosting the Diane Thomason Invitational at Finkbine Golf Course in Iowa City, Iowa.