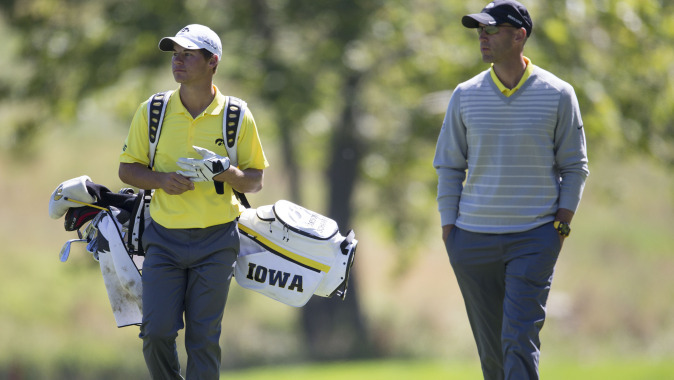 Sept. 24, 2014
IOWA CITY, Iowa — The University of Iowa men's golf team is ranked 26th in the initial 2014-15 Golfweek/Sagarin Rankings. Iowa is the second-highest ranked Big Ten team in the poll that features 262 teams.
The Hawkeyes finished third in the 12-team field at the annual Golfweek Conference Challenge to open the season (Sept. 14-16), before tying for third in the 15-team field at the Windon Memorial Classic last weekend in Chicago.
Iowa's head-to-head record this season stands at 20-4-1, including a 12-4-1 mark against top 100 teams.
Sophomore Carson Schaake is the highest-ranked Hawkeye in the initial rankings (No. 60). Schaake tied for fifth at the Golfweek Conference Challenge (71, 73, 71), before tying for fourth at the Windon Memorial (72, 69, 68).
The Hawkeyes — 1-of-3 Big Ten teams to advance to NCAA competition in each of the last six seasons — continue action Oct. 11-12 at the Rod Myers Invitational in Durham, North Carolina.