Box Score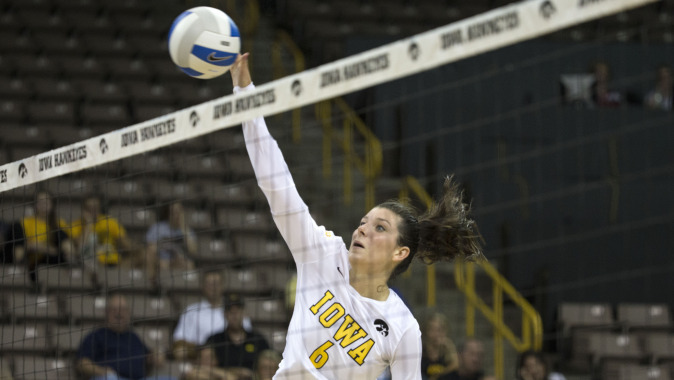 Sept. 24, 2014
By JIL PRICE
hawkeyesports.com
LINCOLN, Neb. — The University of Iowa volleyball attempted a late comeback in its Big Ten opener at No. 8 Nebraska (7-3, 1-0), but the Cornhuskers withstood the Hawkeye push to record the 3-0 final victory. With the loss, Iowa falls to 8-4 overall and 0-1 in conference play.
"We just had one rotation that got us in the first set," head coach Bond Shymansky said. "Our side-out efficiency was really high and we hit .344. Then our group went flat in the second set and we can't afford to do that. I loved what we showed in the third set."
The Hawkeyes posted a .344 attack percentage in the opening set, but were outdone by the Nebraska offense which hit .417 en route to its 25-18 set one win. Iowa established a 7-6 lead early before the Cornhuskers used a six-point run to shift the momentum in their favor. They withstood a late Hawkeye push to secure the set.
The Cornhuskers continued their hot hitting in the second set, posting a .429 attack percentage while limiting the Hawkeyes to -.040. Iowa stayed close early, but Nebraska used another six-point run to pull ahead 17-9. The Cornhuskers never let up and recorded the 25-13 set win.
Michelle Fugarino served up a 5-0 run midway through the third set to give Iowa a 16-15 advantage. The teams fought back and forth through 13 ties before the Cornhuskers closed out the set, 31-29, and the match, 3-0. Alessandra Dietz posted five kills and a .667 attack percentage to fuel the Hawkeye offense down the stretch. Alex Lovell also contributed five kills in the final set.
"Alessandra Dietz really went animal there and we need that," Shymansky said. "I loved that. Mikaela Gunderson and Alex Lovell had that same mentality and came up with some big kills. I really liked how Michelle Fugarino took over the back row too. You get in those tight match moments, you're out of subs and timeouts, and you have to dig deep and find something. That's where I think our home crowd at Carver-Hawkeye Arena will help us a lot this weekend."
Iowa returns to Iowa City for its home opener against No. 8 Nebraska at 7 p.m. (CT) on Mediacom Court in Carver-Hawkeye Arena. Doors open at 6 p.m. and the first 250 fans at the pregame tailgate will receive free pizza. Shymansky will greet fans and invite them to the first Chalk Talk of the season in the Hadley Club Room prior to the match.
| | | | |
| --- | --- | --- | --- |
| Iowa at #8 Nebraska | 1st | 2nd | 3rd |
| Iowa (8-4, 0-1) | 18 | 13 | 29 |
| #8 Nebraska (7-3, 1-0) | 25 | 25 | 31 |
Statistical Leaders
Kills: Lovell (IOWA) 9 | Rolfzen, K. (NEB) 15
Assists: Klostermann (IOWA) 19 | Pollmiller (NEB) 36
Digs: Fugarino (IOWA) 11 | Wong-Orantes/Rolfzen, K. (NEB) 7