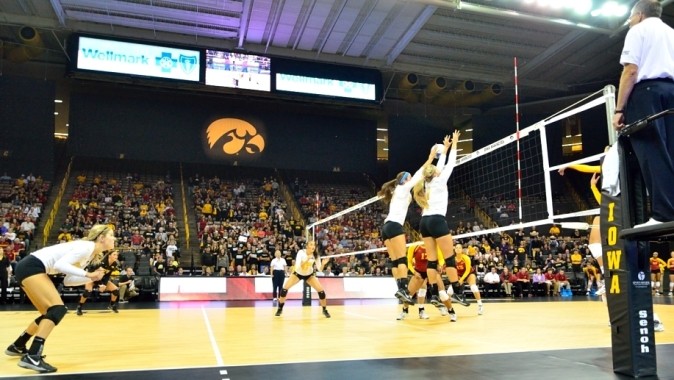 Sept. 25, 2014
Iowa vs. Nebraska Notes

HOME OPENER
After 12 matches on the road, the University of Iowa volleyball team returns to Iowa City for its home opener against No. 8 Nebraska on Saturday, Sept. 27 at 7 p.m. (CT). The Hawkeyes enter the match with an 8-4 overall record and a 0-1 mark in Big Ten play, while the Cornhuskers are 7-3 overall and 1-0 in conference play.
PROMOTIONS
A pregame tailgate will begin at 6 p.m. by the West entrance of Carver-Hawkeye Arena. The first 250 fans in attendance will get free pizza. Head volleyball coach Bond Shymansky will greet fans at the tailgate and invite all to attend the first Chalk Talk session of the season in the Hadley Club Room prior to the match. Posters, schedule cards and key chains will be given away and the team will sign autographs on the court following the match.
SEASON TICKETS
Iowa volleyball tickets are on sale now through the UI Athletics Ticket Office. Courtside seats are $60 per seat ($48 for faculty and staff) and general admission tickets are $30 each ($24 for faculty and staff). Fans that purchase general admission seats can choose to the same reserved seats at each match for the same price. Youth can attend matches for free.
Season ticket packages include a t-shirt and access to Chalk Talks with the Iowa coaching staff in the Hadley Club Room 30 minutes before every home match on the first floor of Carver-Hawkeye Arena. Tickets can be purchased online at hawkeyesports.com, by phone at 1-800-IA-HAWKS or in person at the UI Athletics Ticket Office in Carver-Hawkeye Arena.
FOLLOW ALONG
Fans who cannot attend the match in person can watch a live stream of the match through Hawkeye All Access available at hawkeyesports.com. Audio play-by-play by Tim Keating will accompany the video feed. Gametracker is also available at hawkeyesports.com.
LINK UP WITH THE HAWKEYES
For an inside look at the Iowa Volleyball program and to access exclusive coverage, "like" University of Iowa Volleyball on Facebook and follow @IowaVolleyball on Twitter. Follow the team's live Twitter feed, @IowaVB_Live, for more frequent in-match tweets, play-by-play, statistics and more.
DÉJÀ VU
The Hawkeyes opened Big Ten action at No. 8 Nebraska earlier this week on Sept. 24 in Lincoln, Nebraska. Iowa fell to the Cornhuskers in three sets (25-18, 25-13, 31-29). Alessandra Dietz and Alex Lovell led the Hawkeye offense in the match with a .462 hitting percentage and nine kills, respectively. Mikaela Gunderson posted a team-high four blocks in the contest, Alyssa Klostermann dished out a team-most 19 assists, and Michelle Fugarino anchored the back line with 11 digs.
Nebraska had three hitters in double figures, including Kadie Rolfzen (15 kills), Amber Rolfzen (10 kills) and Alicia Ostrander (10 kills), and posted an overall .347 hitting percentage in the match.
ALL-TIME
? The Cornhuskers lead the Hawkeyes, 21-0, all-time.
? Iowa and Nebraska first played each other on Nov. 17, 1977.
? The Hawkeyes last won a set against Nebraska on Sept. 5, 1987. Iowa fell in four sets (6-15, 5-15, 17-15, 8-15).
CLIMBING THE CHARTS
Senior Alessandra Dietz ranks second all-time at Iowa with a .273 career attack percentage and 18th all-time with 226 career blocks, while fellow senior Alex Lovell is currently 10th all-time at Iowa with 1,236 career kills.
NATIONALLY SPEAKING
? As a team, Iowa ranks 18th nationally in kills per set (14.25), 21st in assists per set (13.31), 31st in blocks per set (2.65), 46th in aces per set (1.61), 61st in win-loss percentage (.727) and 78th in hitting percentage (.239).
? Alessandra Dietz is 25th nationally in hitting percentage (.416) and 68th in aces per set (0.42).
? Taylin Alm ranks 55th in hitting percentage (.380).
? Michelle Fugarino is 70th in digs per set (4.56).
? Alex Lovell ranks 97th in kills per set (3.56).
APPROACHING A MILESTONE
First-year head coach Bond Shymansky owns a career record of 298-113 (.725) and is just two wins from logging his 300th career victory. This is his 13th season as a head coach. He spent the past five seasons (2009-13) at the helm of the Marquette volleyball program and seven seasons before that leading Georgia Tech (2002-09).
A POWERHOUSE CONFERENCE
The Big Ten is considered the premier volleyball conference and continues to remain a force in Division I athletics. Six Big Ten teams appeared in the most recent release of the AVCA Division I Coaches Poll (Sept. 22) including No. 3 Penn State, No. 5 Wisconsin, No. 8 Nebraska, No. 15 Purdue, No. 16 Illinois and No. 17 Minnesota. Michigan State and Northwestern received votes.
CHAMPIONSHIP WEEKEND
The Hawkeyes played to a 4-0 record at the 2014 SDSU Challenge to earn the first tournament championship of the Bond Shymansky era. Iowa opened the tournament with a pair of 3-0 victories over Eastern Illinois and North Dakota on Sept. 12 and concluded the weekend with a 3-1 win over Florida International and a 3-0 win over host South Dakota State on Sept. 13.
ALL-TOURNAMENT HONORS
Three Hawkeyes — Alex Lovell, Jess Janota and Alessandra Dietz — garnered all-tournament team recognition in the first three weeks of the season. Lovell and Janota were named all-tournament opening weekend at the Texas A&M Tournament, Dietz and Lovell made the Residence Inn All-Tournament team in week two, and Janota and Dietz were all-tournament selections for their efforts at the 2014 SDSU Challenge in week three.
ON DECK
Iowa volleyball continues its home stand next weekend with matches against Ohio State on Oct. 3 and Penn State on Oct. 4. The match against Ohio State is a Blackout Match and all fans are encouraged to wear black Hawkeye clothing. It is also Student Night. UI students in attendance will receive a free shirt and pizza.
BIG TEN NETWORK COVERAGE
The University of Iowa volleyball team competes live on Big Ten Network (BTN) and BTN Plus 13 times this season. The Hawkeyes' match against Illinois on Oct. 15 in Iowa City will be televised live on BTN. First serve has been changed from 7 p.m. (CT) to 8 p.m. to accommodate the schedule of the network.
Thirteen Iowa matches will be shown via live stream online through BTN Plus. To see if your cable package gives you access to BTN Plus content, sign up for BTN Plus or learn more about it, visit btn2go.com.
IOWA TIES
Head coach Bond Shymansky and six student-athletes — Kaylee Smith, Kari Mueller, Danielle Cabel, Alli O'Deen, Alyssa Klostermann and Lauren Brobst — on the 2014 roster were born and raised in the state of Iowa.
For several Iowans, playing volleyball for the Hawkeyes is in their blood. O'Deen's mother, Mueller's sister, and Smith's mother all played volleyball at the UI. Shymansky, an Iowa City native, earned a Bachelor of Arts in Communications in 1995 and a Master of Arts in English Education in 1997 from the University of Iowa.
A NEW ERA
Bond Shymansky was named the ninth head coach of the Iowa volleyball program on Jan. 31, 2014. The UI alum and Iowa City, Iowa, native owns a career record of 292-110 (.726) amidst his 13th season.
Shymansky came to Iowa following five seasons (2009-13) at the helm of the Marquette volleyball program, where he guided the Golden Eagles to their first NCAA berth, NCAA victory, and first Big East regular season title. Marquette also won a Big East Tournament Championship, and made three-straight postseason appearances (2011-13).
Shymansky added associate head coach Michaela Franklin and assistant coach Jackie Simpson on Feb. 25, 2014 and completed his staff with the addition of director of operations Danielle Carlson.
#GREATTODAY
The Hawkeye volleyball program has been focused on one moniker since the arrival of head coach Bond Shymansky and his staff. Whether student-athletes are on the court, training in the weight room or learning in the classroom, the Hawkeyes want to be #GreatToday. A major shift in a program can be challenging, but striving for greatness in each area with exceptional effort has been helpful for the group.
PREP VOLLEYBALL HONORS
The 2014 UI volleyball incoming class of junior transfer Mikaela Gunderson and freshmen Taylin Alm, Danielle Cabel, Michelle Fugarino, Jess Janota and Kaylee Smith received Prep Volleyball Highest Honorable Mention distinction in May.
Prep Volleyball consults college coaches from across the country and compiles a Top 30 recruiting class list, followed by a 25-team Highest Honorable Mention list and a 44-team High Honorable Mention list.
U.S. NATIONAL TEAM TRYOUTS
Three Hawkeyes — senior Alessandra Dietz, junior Erin Radke and sophomore Lauren Brobst — gained valuable experience trying out for the U.S. Women's National Team at the U.S. Olympic Training Center in Colorado Springs, Colorado, in February.