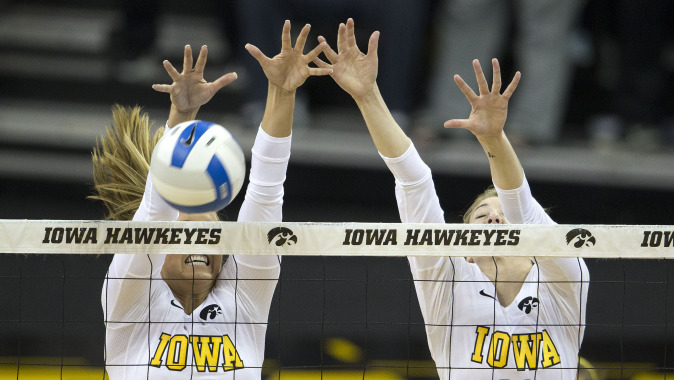 Oct. 11, 2014
Box Score

EAST LANSING, Mich. — Hawkeye volleyball dropped their Saturday evening match, 3-0, at Michigan State (10-7, 3-3). With the loss, Iowa falls to 8-9 on the season and 0-6 in Big Ten play.
"We continue to be too high on errors," head coach Bond Shymansky said. "I thought Michigan State did a really nice job of transitioning and that was the part that killed us was the continuation rally. They were just locked in on the ball in rally situations.
"It's been a tough road trip for us. We're searching for the right lineup and the right group with the right details. It's been a bear. We have a monster schedule and we have to start playing like monsters to get wins."
After five battling through five ties early, the Spartans used a four-point run to pull ahead of the Hawkeyes in set one. Michigan State went on to lead by as much as 11 en route to its 25-15 set one win. The Spartans outhit Iowa .484 to .231. Lauren Brobst led the Hawkeyes with four kills and a .400 attack percentage.
The Hawkeyes fell behind, 14-6, after a 7-point Michigan State scoring drive in the second set. Iowa rallied back within five late, but could not complete the comeback, dropping the set to the Spartans, 25-17. Brobst continued to terminate for the Hawkeyes, as she added six kills to reach double figures for the second-straight match of the weekend.
After the Spartans jumped out to a lead early in the third set, Iowa rallied back within two points, 20-18. Three Alex Lovell kills, two Brobst kills and a Julianne Blomberg service ace fueled the drive. Michigan State recovered and recorded the final five consecutive points to secure a 25-18 set win and the 3-0 match victory.
Brobst led the Iowa offense with 13 kills and a .444 attack percentage. Kaylee Smith dished out a team-high 16 assists, while Alyssa Klostermann added nine. Blomberg and Michelle Fugarino paced the team with five digs each.
Iowa resumes Big Ten action at home next week with a Wednesday match against Illinois at 8 p.m. (CT) and a Saturday match against Northwestern at 7 p.m. The Wednesday match will be televised live on the Big Ten Network.
| | | | |
| --- | --- | --- | --- |
| Iowa at Michigan State | 1st | 2nd | 3rd |
| Iowa (8-9, 0-6) | 15 | 17 | 18 |
| Michigan State (10-7, 3-3) | 25 | 25 | 25 |
Statistical Leaders
Kills: Brobst (IOWA) 13 | Reinig (MSU) 11
Assists: Smith (IOWA) 19 | Minarick (MSU) 39
Digs: Blomberg/Fugarino (IOWA) 5 | Moster (MSU) 13