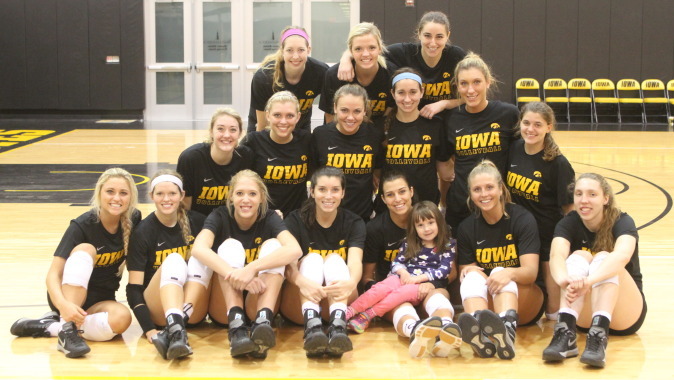 Oct. 11, 2014

Photo Gallery
Editor's Note: The following first appeared in the University of Iowa's Hawk Talk Daily, an e-newsletter that offers a daily look at the Iowa Hawkeyes, delivered free each morning to thousands of fans of the Hawkeyes worldwide.
By JIL PRICE
hawkeyesports.com
IOWA CITY, Iowa — The gym is filled with strong, tall, and athletic college volleyball players, who are nearing the end of another volleyball practice. A 5-year-old girl runs in with her father, carrying a ball of her own to practice with on the other side of the gym. She may not be as tall as her University of Iowa volleyball friends, but she is just as strong and mighty.
Lucy Jane Roth has been a fighter since the age of two when doctors found a rare, softball-sized malignant tumor in her brain. She underwent a 12-hour surgery to remove the growing tumor, which could not be completely removed because blood vessels had grown through it. The surgery left her paralyzed on the right side, but she has since re-learned to walk.
Lucy's weekly routine isn't one of a normal 5-year-old. It includes physical and occupational therapy sessions to improve her mobility and use of the right side of her body, chemotherapy treatments, and doctor appointments. She will likely face a second surgery and radiation in the future.
Despite the tough experiences she has had in her young life, Lucy remains a happy, energetic, and joyful girl. She truly loves life and as her father, Damien, says, she has never met a stranger.
Her father grew up with UI head coach Bond Shymansky. After hearing about Lucy, Shymansky wanted to do anything he could to help. She was invited to practice and the Hawkeyes took it from there, embracing Lucy as part of their family.
"It's really inspiring to have her around," junior Julianne Blomberg said. "The first day she came to visit, she was following us around and asked for someone to play with her. I took her on a tour of Carver-Hawkeye Arena, walked around with her, and showed her fun stuff that seems normal to us, but she found really cool. We bonded when that happened."
Lucy has had a profound impact on the Hawkeye volleyball team and staff. She has been a shining example of taking a positive approach to life.
"As a father it's heartbreaking to see Damien and his wife, Heather, going through such a difficult challenge with little Lucy," Shymansky said. "She's such an energetic, precious, and upbeat little kid. She doesn't know she has it rough, which is amazing.
"It often reminds me that whatever challenges I have personally or professionally as a coach, that they're nothing compared to that and that they're not insurmountable. Having her around is a great reminder of resilience, positivity, and non-stop energy toward making every day a great day."
"Sometimes I'm working hard and trying to achieve a goal in volleyball, I'm tired and am feeling like everything is going wrong," Blomberg said. "I'll have a day like that and then she'll come into the gym and put a smile on my face.
"Our problems are miniscule compared to what she has to go through on a daily basis. It puts things in perspective and makes you realize there are things bigger than volleyball. She has become part of our family, and we love having her around."
The experience has also been an emotional one for the Roth family.
"I could see Lucy with them a million times and it would never get old," Damien said. "You have all of these tall, strong, athletic ladies and then this tiny girl who runs up to them. They embrace her and make her feel special. She's the center of attention, they play with her, and it means the world to us.
"She has to endure so much difficulty every day of her life and to watch your little child suffer so much is hard. To be able to do something like this, to have something we look forward to, is nice."
Hawkeye fans that wish to support Lucy and her family with medical expenses for current and future treatments can make a donation to the Lucy Jane Roth Medical Fund at Bank of the West. Instructions on how to do so are listed below.
Lucy Jane Roth Medical Fund
Donors may stop by a local Bank of the West Branch or send checks through the mail. Checks must be made payable to the Lucy Jane Roth Medical Fund. All checks must be endorsed on the back with: For Deposit Only, Lucy Jane Roth Medical Fund. Checks can be mailed to the address below.
Bank of the West
800 22nd Avenue
Coralville, IA 52241
Telephone: 319-354-6960