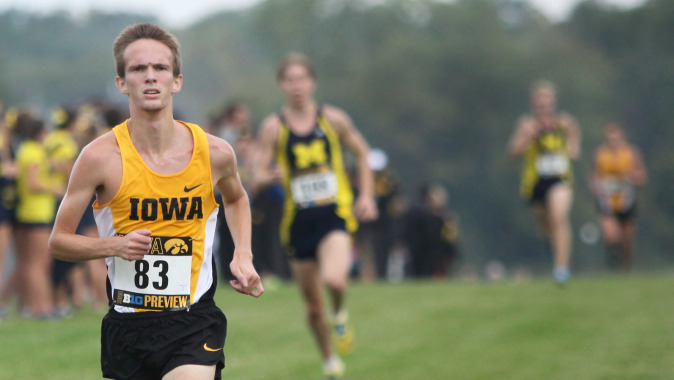 Oct. 15, 2014
Weekly Release

THIS WEEK
The University of Iowa cross country team heads to Terre Haute, Indiana for the Pre-National Invitational on Saturday. Competition begins at 10 a.m. at the LaVern Gibson Championship Cross Country Course. The men compete on an 8,000-meter course and the women will compete in the 6,000-meters.
IN THE RANKINGS
The men's team moved up one spot since the latest USTFCCCA polls, released Oct. 6. The Hawkeyes are ranked ninth in the Midwest Region.
LAST OUTING
The Hawkeyes competed in the Notre Dame Invitational on Oct. 3 in South Bend, Indiana. Senior Kevin Lewis was Iowa's top finisher in the five mile Blue Division race, placing 31st place (23:54) to lead Iowa to a 16th finish in a 24-team field.
The women were led by sophomore Carolyn Newhouse, who completed the 5,000-meter course in 17:39. The team finished 7th in the Gold Division out of 27 teams. Freshman Marta Bote Gonzalez was Iowa's second finisher (17:43).
2013 PRE-NATIONAL INVITATIONAL
Senior Kevin Lewis has led the Hawkeyes in his previous eight races, including the 2013 Pre-National Invitational where he ran a collegiate best 8,000-meter time of 24:15. Also recording a collegiate best time at last season's event was junior Nate Ferree, who crossed the finish line in 24:58.
On the women's side, sophomore Tess Wilberding clocked a collegiate best time in the 6,000-meters, crossing the line in 22:36. Sophomore Katie Adams led the Hawkeyes at the 2013 Pre-National race, finishing 66th in a time of 22:16 to help Iowa to a 13th place finish out of 35 teams.
HAWKEYE TOP FINISHERS
The Hawkeye women have had a different leader in each of their races this season. Top finishers for Iowa include freshman Courtney Bruns (Bulldog 4K Classic), Adams (Illinois State Invitational), junior Jocelyn Todd (Big Ten Preview), and Newhouse (Notre Dame Invitational).
2014 BIG TEN CHAMPIONSHIPS
Iowa will host the 2014 Big Ten Championships at the Ashton Cross Country Course on Nov. 2. This year's meet marks the 100th running of the Big Ten Men's Cross Country Championships. For more information the B1G Championships page at hawkeyesports.com.
THOUGHTS FROM ANDERSON
"Our goal this weekend is to compete in a manner that reflects our training and gain additional momentum that we can carry forward to the Big Ten Championships. Lifetime best performances should be the goal for each individual and a collective team effort that ensures we are competitive against the field."