Oct. 17, 2014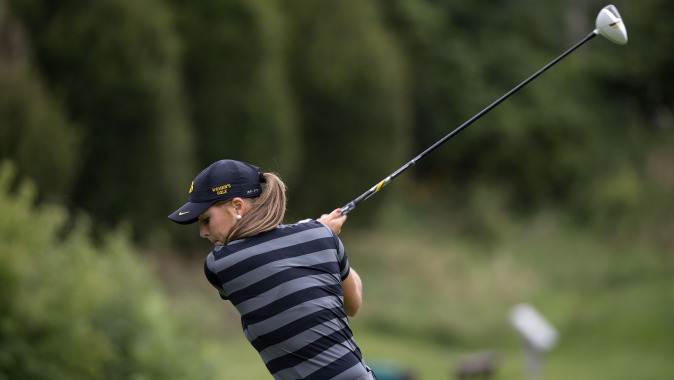 ?
Weekly Release

THIS WEEK: The University of Iowa women's golf team travels to Starkville, Mississippi to participate in the 2014 Old Waverly Bulldog Invitational, Oct. 20-22. The tournament, hosted by Mississppi State University, will be held at Old Waverly Golf Course (par 72, 6,113 yards). Live scoring will be available throughout the tournament via BirdieFire.com.
LAST TIME OUT: Iowa finished second out of 13 teams at the Diane Thomason Invitational in Iowa City on Oct. 4-5, carding a three round 931 (326, 302, 303). Amy Ihm registered the best finish for the Hawkeyes with a 230 (+14), posting rounds of 77, 76 and 77, to tie for fifth. Her fifth place finish marked the best finish of her Hawkeye career.
HAWKEYES TO WATCH: Sophomore Jessie Sindlinger leads the Hawkeyes with a team low 77.6 round average, she recently finshed in the top-10 at the Diane Thomason Invitational (T-10th), registering a three round 232 (85, 72, 75). Coming off a career performance at the Diane Thomason Invitational, junior Amy Ihm is currently posting the second lowest average on the team (78.1) so far this season.
LINE-UP: Amy Ihm, Jessie Sindlinger, Jessica Ip, Shelby Phillips and Elisa Suarez will participate in the competition. Ihm, Sindlinger and Suarez have participated in all three competitions thus far in the fall season for Iowa. Phillips and Ip have participated in two of the three.
HEAD COACH Megan Menzel: "We have heard exciting things about Old Waverly and we are looking forward to the trip to Mississippi. Our team showed great composure at our home tournament and we have had a great opportunity to work on our games the past couple of weeks. Throughout our line-up we have had some very solid play this fall and we look forward to the opportunity to compete this weekend. "
ON THE HORIZON: The Hawkeyes travel to Boerne, Texas, to compete in the Jim West Invitational on Nov. 2-4. The tournament will mark the final fall event for Iowa.