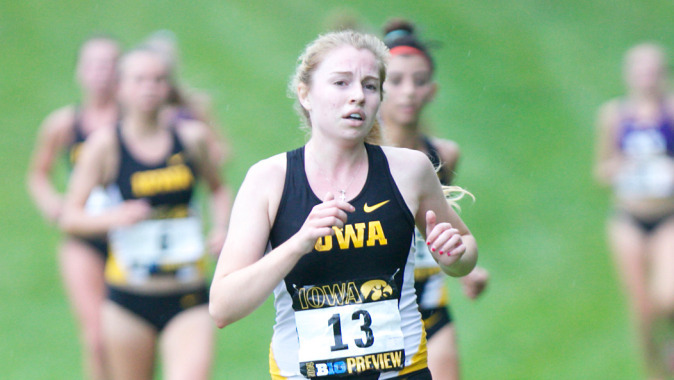 Oct. 18, 2014
Men's Blue Results

| Women's White Results

TERRE HAUTE, INDIANA — Ben Anderson set a new personal best in the 8,000-meters Saturday at the Pre-National Invitational in Terre Haute, Indiana. The sophomore crossed the finish line of the LaVern Gibson Championship Course in 25:17 to lead the Hawkeyes to an 18th place finish in the Blue Division. Iowa received other top finishes from sophomores Nate Ferree (25:21) and Anthony Gregorio (25:28), who finished 80th and 105th, respectively.
Senior Ben Witt (121) and sophomore Kevin Docherty (141) clocked times of 25:36 and 25:44 to round out Iowa's scoring.
Senior Kevin Lewis, Iowa's top runner in his past eight races, did not finish due to soreness in his knee.
In the women's 6,000-meter race, Carolyn Newhouse led the Hawkeyes to a third place finish in the White Division, clocking a personal best time of 22:27 for a 31st place finish overall. She led Iowa in its previous outing at the Notre Dame Invitational on Oct. 3.
Sophomore Katie Adams finished 35th in a time of 22:32 to help pace Iowa. Sophomore Samantha Zishka (22:57), junior Jocelyn Todd (22:59), and sophomore Courtney Martin (23:10) contributed to Iowa's score, finishing 54th, 57th, and 73rd, respectively.
"I thought we had solid team efforts in tough conditions," head coach Layne Anderson said. "If we can race at full strength and get a solid day up and down the lineup we could set the stage for a solid next two races."
The Hawkeyes host the Big Ten Championships at the Ashton Cross Country Course on Nov. 2.