Oct. 21, 2014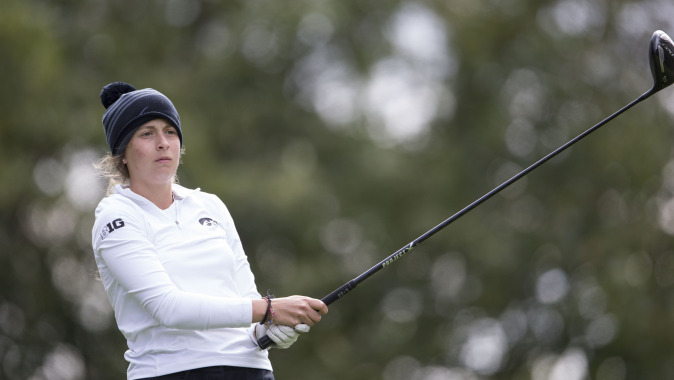 ?
Day Two Results

STARKVILLE, Miss. — The University of Iowa women's golf team continued second round action at the Old Waverly Bulldog Invitational on Tuesday at Old Waverly Golf Course, registering a 304 (+16). The team is currently in eighth place after day two in the field of 13 teams following 36 holes. With only one round to play on Wednesday, host Mississippi State (-14) leads the event by a large margin.
Freshman Elisa Suarez stayed consistent and managed to build off her strong even par 72 day one performance. She again had the best round for Iowa, firing an impressive 71 (-1). The freshman was able to sink birdies on four holes including holes 9, 12, 15 and 16 while also producing pars on 11 total holes. After the first round, the freshman was tied for eighth. Posting a two round 143 (-1) she has since jumped two spots and is tied for sixth, two strokes off fifth.
Like her teammate Suarez, Jessie Sindlinger was able to jump a few positions after day two. Sindlinger carded a 73 (+1), improving on her day one 75 (+3). Sindlinger posted birdies on holes six and 16. The sophomore's efforts saw her jump up three spots. She is tied for 24th with a two round 148 (+4).
After a first-round 75 (+3) on day one, senior Shelby Phillips registered an 80 (+8) in the second round. After the second round she is tied for 46th. Like her teammate, Jessica Ip tallied a second round 80 (+8), bringing her two round total to 156 (+12). After day two, Ip is tied for 49th.
Rounding out the Hawkeye squad is junior Amy Ihm. She registered a second-round 85 (+13), bringing her two round total to 165 (+21).
Iowa concludes action in Starkville on Wednesday, with the third and final round.