Box Score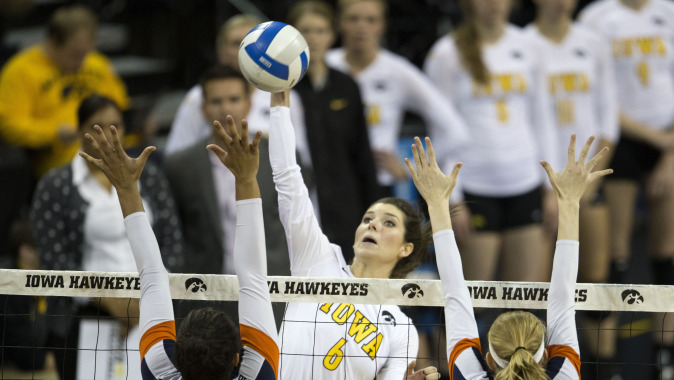 Oct. 22, 2014
MADISON, Wis. — The University of Iowa volleyball team fell in straight sets, 3-0, to No. 5-ranked Wisconsin (17-2, 8-1) in midweek action. The Hawkeyes are 9-11 overall and 1-8 in conference play following the loss.
"We had players that went streaky offensively, you could see it at the end that Alessandra Dietz was on fire," head coach Bond Shymansky said. "I love that she is commanding the ball. We took a timeout and the first thing she said was give me the ball. When you have players that want to succeed and believe they are going to get the next point, you can ride that. That's where momentum is built and what championships are built on. We need more players that can go there all the time.
"We just got shaky out there. It's a tough place to play on the road and against a top team like that, but this is the Big Ten and that's what it's all about."
The Badgers opened the match with three-straight kills to establish a lead and did not surrender it en route to their 25-15 set one win. Wisconsin posted a .355 attack percentage and limited the Iowa offense to .111. Lauren Brobst led the Hawkeyes with four kills and a .375 hitting percentage, while Jess Janota added three kills and hit .400.
After trailing by as much as seven in the second set, Iowa battled back within two points of Wisconsin, 23-21. Kari Mueller served up a 4-0 drive to start the comeback charge, which was fueled by two kills from Janota, Alessandra Dietz and Taylin Alm. The Hawkeyes could not complete their comeback, giving Wisconsin a 2-0 lead heading to the break after its 25-22 set win.
The Hawkeyes took an early lead in the third set, 5-3, before the Badgers scored eight-straight points for an advantage. Iowa fought back to get within two of the Badgers, 19-17, but Wisconsin was able to hold off the Hawkeyes to secure its 25-19 win and 3-0 victory.
Dietz and Brobst led the Iowa offense with nine kills apiece. Kaylee Smith dished out a team-high 18 assists followed by Alyssa Klostermann who recorded 17. Michelle Fugarino and Mikaela Gunderson led the defense with 16 digs and four blocks, respectively.
Iowa continues its road swing with a Saturday match at No. 25 Minnesota. The 7 p.m. (CT) match will be shown live online through BTN Plus at btn2go.com.
| | | | |
| --- | --- | --- | --- |
| Iowa at #5 Wisconsin | 1st | 2nd | 3rd |
| Iowa (9-11, 1-8) | 15 | 22 | 19 |
| Wisconsin (17-2, 8-1) | 25 | 25 | 25 |
Statistical Leaders
Kills: Brobst/Dietz (IOWA) 9 | Thomas (UW) 11
Assists: Smith (IOWA) 18 | Carlini (UW) 32
Digs: Fugarino (IOWA) 16 | 13 (UW) 13
Blocks: Gunderson (IOWA) 4 | Thompson (UW) 8