Oct. 22, 2014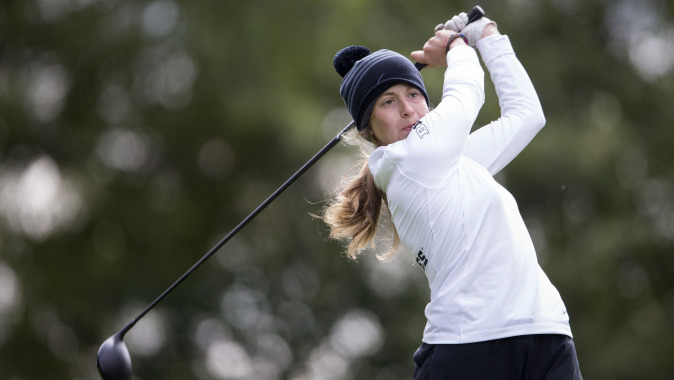 ?
Final Results

STARKVILLE, Miss. — The University of Iowa women's golf team concluded action at the Old Waverly Bulldog Invitational on Wednesday at Old Waverly Golf Course, registering a 301. The Hawkeyes finished seventh in the field of 13 teams, (903; 298, 304, 301) jumping one spot from Tuesday. Host Mississippi State (-4) took first place followed by South Florida in second (+18) and Houston in third (+21).
Freshman Elisa Suarez recorded her best outing of her young Hawkeye career, firing a three-round 217 (+1), posting rounds of 72, 71 and 74. The freshman was able to stay consistent throughout the tournament, sinking birdies on holes two, six, seven, and 17 in the third round. Suarez sank 12 birdies total in the tournament. Her efforts helped her earn a career best finish (T-4th), one stroke off third.
"I played calm throughout the entire tournament maintaining a steady mindset; I really liked this golf course," said Suarez. "The team finished well today and I thought everyone showed great composure all the way to the end."
Sophomore Jessie Sindlinger posted the second best finish for Iowa, carding an 80 (+8) in round three which took her three-round total to 228 (+12). Sindlinger finished the tournament tied for 34th. Jessica Ip, posted an even par 72 on the final day. The freshman registered par on 12 holes, while also managing birdies on holes nine, 11 and 13. Ip carded a three round 228 (+12), posting rounds of 76, 80 and 72. She climbed 15 spots from Tuesday, ending the tournament tied with her teammate Sindlinger (T-34th).
Senior Shelby Phillips improved from her day two performance registering a 75 (+3) in the third round, matching her first round total. She finished tied for 45th with a three round total 230 (+14).
Rounding out the Hawkeye squad is junior Amy Ihm. She registered a third-round 83 (+11), bringing her three round total to 248 (+32).
Iowa concludes fall action with a trip to Boerne, Texas to take part in the Jim West Invitational on Nov. 2-4.