Oct. 27, 2014
Weekly Release

THIS WEEK
The University of Iowa cross country team hosts the 2014 Big Ten Cross Country Championships on Sunday at the Ashton Cross Country Course. The women's 6,000-meter competition begins at 10:45 a.m.(CT) with the men's 8,000-meter race following at 11:45 a.m.(CT).
TICKET SALES
Tickets can be purchased online at hawkeyesports.com, over the phone at 1-800 IAHAWKS,or by visiting the UI Athletics Ticket Office location in Carver-Hawkeye Arena. Tickets purchased prior to Sunday are $8 for adults and $3 for youth (18 & under). Tickets purchased on site are $10 for adults and $5 for youth.
ASHTON CROSS COUNTRY COURSE
The Bill and Jim Ashton Cross Country Course was dedicated in 2004 in conjunction with the last time Iowa hosted the Big Ten Championships. The course is located west of the Finkbine Golf Course and adjacent to the UI Athletics Hall of Fame, accessible from both Mormon Trek Boulevard and Melrose Avenue.
IN THE RANKINGS
The Iowa men and women appeared in the latest USTFCCCA rankings released Oct. 20. The men's team moved up two spots to No. 7 in the Midwest Region, while the women came in at No. 15.
LEWIS ROLLS ON ASHTON
Senior Kevin Lewis has placed first twice, and second once in three career races at the Ashton Cross Country Course. He won 2011 Iowa Invite and 2013 Black & Gold Invitational,and placed second at the 2011 Iowa Open. Lewis has led the team in his past eight races,but did not compete at the Pre-National Invitational on Oct. 18 due to soreness in his knee.He recorded a season best 8,000-meter time of 24:22 at the Illinois State Invitational on Sept. 12.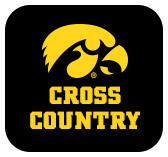 NEWHOUSE REPEATS
Sophomore Carolyn Newhouse has led Iowa in its previous two outings at the Notre Dame Invitational in South Bend, Indiana, on Oct. 3 and the Pre-National Invitational in Terre Haute, Indiana, on Oct. 18. The sophomore recorded a personal best time of 22:27 in the 6,000-meter race at the Pre-National Invitational, cruising to a 31st place finish overall. She is one of five Hawkeye top finishers this season. Other Iowa leaders include redshirt freshman Courtney Bruns, sophomore Katie Adams, and junior Jocelyn Todd.
SCOUTING THE BIG TEN
The men's race features Wisconsin (6th), Michigan (14th), Indiana (20th), and Michigan State (22nd). Michigan State is the top ranked team in the nation on the women's side. Erin Finn of Michigan won this year's Big Ten Preview meet on Sept. 20 at the Ashton Cross Country Course. Michigan (4th), Wisconsin (8th), Ohio State (19th), and Minnesota (20th) will be heavy competitors in the field.
BIG TEN RETURNS TO IOWA CITY
This will be the sixth time Iowa hosts the Big Ten Cross Country Championships and the first time the event has come to Iowa since 2004. The men's team grabbed a third-place finish (110), while the women finished seventh (170) in 2004.
HAWKEYE BIG TEN HISTORY
Eight Hawkeyes (6 men, 2 women) have been crowned Big Ten Individual Champions. Tracy Dahl Morris was Iowa's first female Big Ten Champion in 1992. Diane Nukuri was the last woman to win the title. She clocked a Big Ten Championships record time of 19:37 (6,000-meters) to win gold in 2007.
Former Director of Track & Field Larry Wieczorek was the last Iowa male to take the Big Ten crown. Wieczorek won back-to-back titles in 1966 (4 miles; 19:02.5) and 1967 (5 miles; 24:17), setting the Big Ten Championships record in the four mile race. He is one of 19 Big Ten student-athletes to win two or more titles. That group includes three Hawkeyes — Wieczorek, Rich Ferguson (1952-53), and H.R. Phelps (1923-24).
The women's team claimed its first Big Ten title at the 1982 Cross Country Championships in Iowa City. The Hawkeyes placed four runners in the top 15. Nan Doak ran as Iowa's number one runner, crossing the line in third. Doak was a two-time All-American for Iowa in cross country, placing 10th at both the NCAA and TAC National Championships. Her 5,000-meter time (16:31) ranks fourth all-time in school history. Teammates Jenny Spangler, Jodi Hershberger, and Anne Dobrowolski finished 10th, 11th, and 13th.
HOME COURSE ADVANTAGE
Hawkeye territory was first home to the Big Ten Championships in 1931 when the men's team placed seventh. The Big Ten Championships returned to Iowa City in 1962 and the men's team claimed a second place finish. Iowa hosted the conference meet again in 1972, 1982, and 1994. Iowa's first team all-Big Ten selections are Kevin Herd (1992-93) and Micah VanDenend (2006).
MAKING AN APPEARANCE
Former Director of Track & Field Larry Wieczorek and two-time All-American Nan Doak will hand out awards following the conclusion of the men's and women's races Sunday.
ALUMNI DINNER
An alumni dinner will take place from 7 to 9 p.m. Saturday at UI Athletics Hall of Fame. The event is by invitational only. If interested, please contact Director of Operations Kate See at kathryn-see@uiowa.edu. Heavy o d'oeuvres and a cash bar are provided.
LIVE RESULTS
The 2014 Big Ten Cross Country Championships will air on BTN on Wednesday, Nov. 12 at 7 p.m. (CT). Jay Wilson, Eric Vetter and Dave Hunter will call the action from the Ashton Cross Country Course.
B1G CHAMPIONSHIPS ONLINE
Live results are available on the cross country schedule page at hawkeyesports.com and cfpitiming.com.