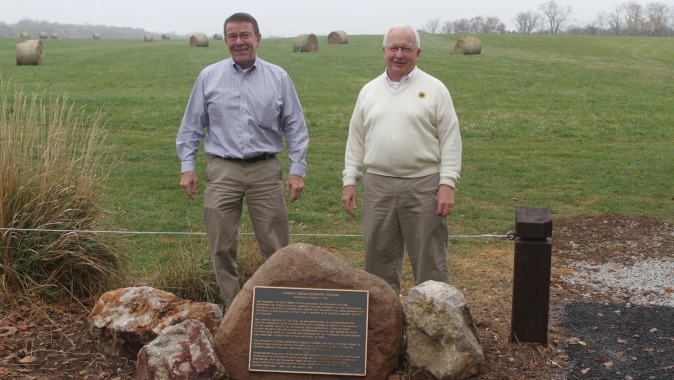 X. Cretzmeyer and Bill Ashton stand at the entrance of the Ashton Cross Country Course prior to the 2014 Big Ten Cross Country Championships in Iowa City.
Oct. 30, 2014
Editor's Note: The following first appeared in the University of Iowa's Hawk Talk Daily, an e-newsletter that offers a daily look at the Iowa Hawkeyes, delivered free each morning to thousands of fans of the Hawkeyes worldwide.
By JORDAN BUCHER
hawkeyesports.com
IOWA CITY, Iowa — Ten years after hosting its first Big Ten Conference Championships, the Ashton Cross Country Course is groomed for round two.
Friday marks the 10th anniversary of the Hawkeyes' home course, and to celebrate its birthday the University of Iowa is hosting the 2014 Big Ten Cross Country Championships on Sunday, Nov. 2.
The course bears name to former Hawkeyes Bill and Jim Ashton, who made the initial deposit to devote the land — which was previously a farm field owned by the University — to be used as the site for the new cross country course.
"My brother Bill was actively involved as an official with cross country and track, and worked closely with (former head coach) Larry Wieczorek, who very much wanted a cross country course," Jim Ashton said.
As former student-athletes and longtime contributors to the University of Iowa, Bill and Jim said they had no reservations when it came to supporting their alma mater.
"We were willing to do it as a tribute to our teammates and in recognition of our former coach, Francis X. Cretzmeyer," Bill Ashton said. "I like to say I've had three good father figures in my life, and Cretz was one of them. He was an unbelievably great role model who influenced the personal and professional lives of all his runners. Not many people are blessed to have individuals like him."
Cretzmeyer was at the helm of UI cross country and track and field from 1948-78, and the Iowa track is named in his honor. He led the Hawkeyes to five Big Ten championships, including cross country titles in 1961 and 1963. Bill and Jim were members on the 1960 team that placed runner-up.
"I didn't consider myself a very good runner, but he always encouraged me," Bill said with a laugh.
The Ashton brothers are graduates of the UI College of Engineering. Bill (1962 B.S.C.E., 1963 M.S.) is a former UI Varsity Club president and started his own engineering business, Ashton Engineering, in Davenport, Iowa. One of his most notable projects is the High Trestle Bridge in Des Moines, Iowa.
Jim (1964 B.S.C.E.) resides in Dallas, Texas, and was recipient of the 1989 UI Distinguished Alumni Award. He has served as an executive in a variety of companies.
"To this day, I have more loyalty and respect for the University of Iowa and the education it gave me in preparation," said Jim, who attended M.I.T for his master's in engineering and Harvard Business School. "Much of the business success that I've had goes back to what I consider to be both an outstanding technical and liberal education system at the University of Iowa."
The Ashton's initial gift led to a spectator-friendly course that features a rolling terrain in the middle of an open field, providing an excellent venue for both runners and fans.
When the course is not being used for University of Iowa practice or competition, it serves as a training facility for high schools and is even groomed in the winter for cross country skiing competitions.
"I'm very proud that the Big Ten Championships will be here, but I think it's more important that the course is used extensively," Bill said. "The more you can help younger people participate in athletics and enjoy it — that is what gives me and Jim the most satisfaction."
Since their graduation from the University of Iowa, Bill and Jim Ashton have remained close to the Hawkeye community, and even closer to the Cretzmeyer family.
"The Ashton brothers have been a part of our family for as long as I can remember," said X Cretzmeyer, son of the late Francis X. Cretzmeyer. "I will never forget my father saying, 'Those Ashton boys — Jim, Bill, and George — have got to be the three smartest boys to ever come out of one family.'"
The end result of the Ashton's wit and generosity will be on display when the Big Ten women's race begins Sunday at 10:45 a.m. (CT). The men's race follows at 11:45 a.m. (CT). Tickets can be purchased in advance at the UI Athletic Ticket Office, or on-site the day of the race.