Oct. 31, 2014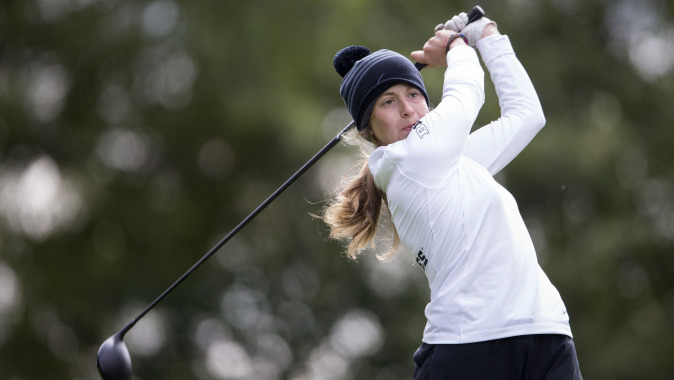 Weekly Release

THIS WEEK: The University of Iowa women's golf team travels to Boerne, Texas to participate in the 2014 Jim West Invitational, Nov. 2-4. The tournament, hosted by Texas State University, will be held at Tapatio Springs Golf Club (par 72, 6,234 yards). The three round 54-hole tournament will being with round one at 8:30 a.m. (CT) on Sunday. Live scoring will be available throughout the tournament via BirdieFire.com.
LAST TIME OUT: Iowa finished eighth out of 13 teams at the Old Waverly Bulldog Invitational in Starkville, Mississippi on Oct. 20-22, carding a three round 903 (298, 304, 301). Freshman Elisa Suarez recorded her best outing of her young career, carding the best finish for the Hawkeyes with a 217 (+1), posting rounds of 72, 71 and 74, to tie for fourth.
HAWKEYES TO WATCH: Freshman Elisa Suarez off her best performance, leads the Hawkeyes with a team low 77.0 scoring average. Thus far, Suarez has registered one top-10 finish at the Old Waverly Bulldog Invitational as well as two top-20 finishes. Right behind her teammate in the low round average category is Jessie Sindlinger with a 77.1 average. The sophomore's most recent performance saw her card a three round 228 (+12) to tie for 35th.
LINE-UP: At the top of the line-up in the number one spot will be Elisa Suarez followed by Jessica Ip in the two spot, Jessie Sindlinger third, Shelby Phillips fourth and rounding out the team will be junior Amy Ihm. Ihm, Sindlinger and Suarez have participated in all four competitions thus far in the fall season for Iowa. Phillips and Ip have participated in three of the four.
HEAD COACH Megan Menzel: "We are looking forward to playing in the last event of the fall. The weather has held up nicely for us and has given us a good opportunity to continue to make some progress on our games. The team has put together some consistent play recently and we look forward to the opportunity to end the fall season on a strong note. "
END OF FALL PLAY: The Hawkeyes end their fall schedule with the Jim West Invite. Iowa will have an extended break before Feb.15-17, when they head to Rio Grande, Puerto Rico to take part in the Lady Puerto Rico Classic.