Box Score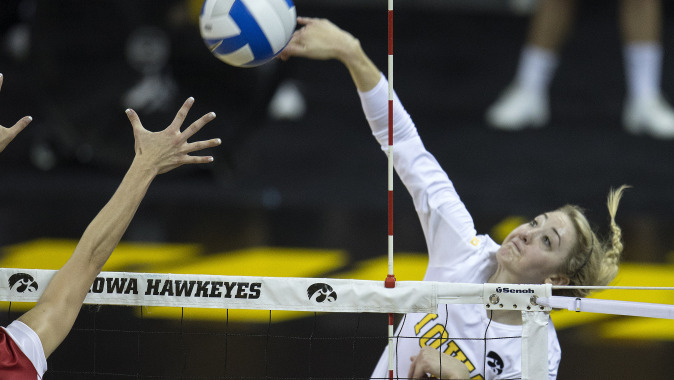 Nov. 1, 2014
PISCATAWAY, N.J. — A trio of Hawkeyes reached double digit kills to help University of Iowa volleyball defeat Rutgers (7-18, 0-12) in four sets on Saturday night. With the victory, the Hawkeyes own an 11-12 overall record and a 3-9 mark in Big Ten action.
Lauren Brobst came on strong for the Hawkeyes, posting a team-high 18 kills in the match, while Taylin Alm added a career-high 11 kills along with Jess Janota.
"It's a great road trip for the Hawkeyes," head coach Bond Shymansky said. "We had a really nice balance tonight out of our hitters. Brobst came and played hard for us, and Alm and Janota did a nice job too with 11 kills each from our right sides. That all happened because of our passing.
"I see this as a growing weekend for our team. It provides a lot of momentum as we go into our next match at home against Indiana on Wednesday."
It is Iowa's first time winning consecutive conference matches since 2012, when the Hawkeyes defeated Indiana 3-1 on Oct. 5 and then-ranked No. 12 Purdue 3-0 on Oct. 6. Those wins also came on the road.
The Hawkeye offense started off hot, hitting .600 in their 25-15 opening set win compared to Rutgers' .037 attack percentage. Iowa used a pair of four-point runs, fuelled by a kill and two service aces by Alessandra Dietz, a kill by Brobst and a combination block by Mikaela Gunderson and Janota. Alm came off the bench in a big way, leading the Hawkeyes offensively in the set with five kills on eight attempts for a .625 hitting percentage.
Iowa used a trio of Brobst kills and another Dietz service ace to establish a lead over Rutgers in set two. The Hawkeye offense never let up, posting a .429 hitting percentage en route to their 25-18 victory. Brobst led the way for Iowa with four kills, while Julianne Blomberg, Alm and Janota added three kills apiece.
After dropping set three to Rutgers 27-25, the Hawkeyes recovered with a 25-16 fourth-set victory to secure the match win. Brobst continued to terminate for the Hawkeyes with seven kills in the set, while Janota and Dietz recorded three and two kills, respectively.
Kaylee Smith dished out a team-high 24 assists followed by Alyssa Klostermann who compiled 21 assists. Reaching double digits in digs were Michelle Fugarino (16) and Julianne Blomberg (10). Gunderson paced the team with five total blocks.
Iowa returns to Iowa City to face Indiana on Wednesday and Purdue on Saturday at home next week. Both matches will begin at 7 p.m. (CT).
| | | | | |
| --- | --- | --- | --- | --- |
| Iowa at Rutgers | 1st | 2nd | 3rd | 4th |
| Iowa (11-12, 3-9) | 25 | 25 | 25 | 25 |
| Rutgers (7-18, 0-12) | 15 | 18 | 27 | 16 |
Statistical Leaders
Kills: Brobst (IOWA) 18 | Lassa (RU) 12
Assists: Smith (IOWA) 24 | Bayer (RU) 21
Digs: Fugarino (IOWA) 16 | Schroeter (RU) 19
Blocks: Gunderson (IOWA) 5 | Frazier (RU) 5