Box Score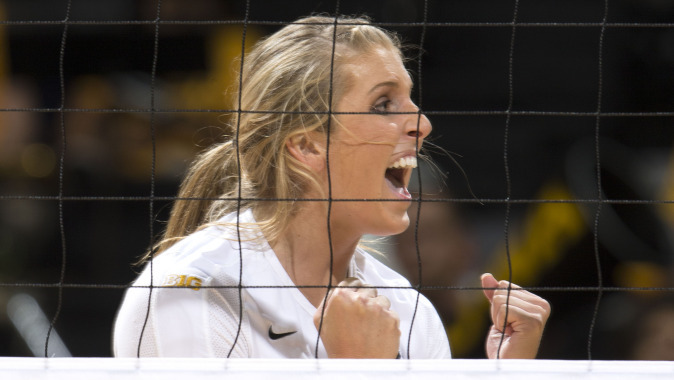 Nov. 12, 2014
UNIVERSITY PARK, Pa. — The University of Iowa volleyball team saw its four-match win streak come to an end Wednesday night, when it fell to defending national champion No. 6 Penn State (25-3, 13-2) in straight sets. The Hawkeyes drop to 13-13 overall and 5-10 in Big Ten play following the loss.
"Our group came out against the defending national champion, and we made them earn our respect," head coach Bond Shymansky. "We battled with them early on and then they separated. Our group got intimidated for a little bit.
"I loved that our team came back and made them work in the third set. This is a tough road trip, but it's a big deal for us to get this experience moving forward."
The Hawkeyes hung with the Nittany Lions early in set one, playing through six tie scores in the first 16 points of the match. With the set knotted at 8-8, Penn State scored 13-straight to seize the momentum and went on to record a 25-14 win. Taylin Alm and Julianne Blomberg provided the offense for the Hawkeyes with three and two kills, respectively.
Penn State continued to terminate in the second set, recording a .533 attack percentage, en route to its 25-12 win. Iowa stayed within a four-point margin early, but a seven-point run allowed the Nittany Lions to pull ahead and take a 20-9 lead. The Hawkeyes managed just three points from there — kills by Alessandra Dietz, Mikaela Gunderson and Alm — before falling in the set.
Iowa battled with Penn State through 12 tie scores and eight lead changes in set three. The Hawkeyes used a Dietz kill and Blomberg service ace to establish a 10-8 advantage, but Penn State fought back into the set and pulled ahead 13-11. Iowa did not surrender, knotting the scores three additional times in the set before the Nittany Lions could secure the 25-21 win for the 3-0 sweep.
Gunderson paced the Hawkeye offense with six kills and a .556 hitting percentage, and Kaylee Smith dished out 18 assists. Michelle Fugarino and Alyssa Klostermann each posted seven digs to lead the team in the match.
Iowa is back in action Saturday in Iowa City against No. 4 Wisconsin. The match is scheduled for 7 p.m. (CT).
| | | | |
| --- | --- | --- | --- |
| Iowa at #6 Penn State | 1st | 2nd | 3rd |
| Iowa (13-13, 5-10) | 14 | 12 | 21 |
| Penn State (25-3, 13-2) | 25 | 25 | 25 |
Statistical Leaders
Kills: Gunderson (IOWA) 6 | Whitney (PSU) 16
Assists: Smith (IOWA) 18 | Hancock (PSU) 41
Digs: Fugarino/Klostermann (IOWA) 7 | Gonzalez (PSU) 10
Blocks: Dietz/Gunderson (IOWA) 1 | Grant (PSU) 6