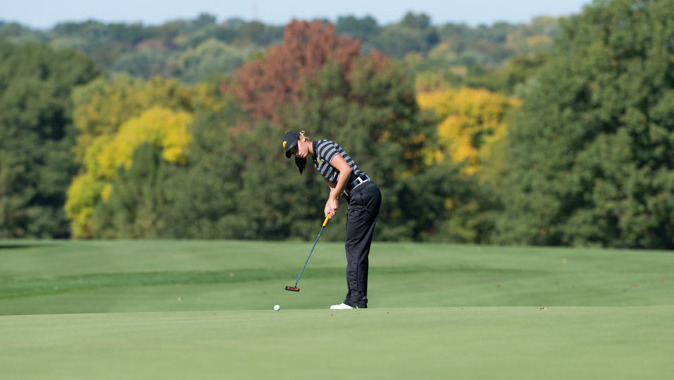 Nov. 13, 2014




IOWA CITY, Iowa — The Iowa Golf Association (IGA) has announced that Finkbine Golf Course in Iowa City has been named its 2014 18-Hole Course of the Year. Designed by Robert Bruce Harris and opened for play in 1953, Finkbine is located on the west edge of the University of Iowa's campus. The facility is the pride and beauty for the UI men's and women's golf teams, and the UI community.
Director of Grounds Ted Thorn, Superintendent Mike Hoffman and the entire grounds crew do an outstanding job of producing and maintaining a first-class playing surface. Inside operations, led by Director of Golf Jeff Moore, provide excellent service to all who visit Finkbine.
"This is the first time since 1993 that Finkbine has won this award as the best 18-hole course in the state," said Moore. "With the help of the maintenance staff, golf coaches and golf operations staff, we put a plan in place in 2012 with the IGA to host their major events the past three years. Winning this award is the culmination of those efforts. I speak for the maintenance staff and coaches in saying how proud we are of showcasing Finkbine for the state's best players the past few years and are grateful to win this long-standing award. We are glad to be hosting more IGA events in the future."
The par-72 course challenges golfers of every skill level. The design features sloped greens and sand bunkering on 17 of the 18 holes. The signature 13th hole is an island green surrounded by water offering multiple tee boxes and two greens. The university maintains Finkbine's lush tees, fairways and greens with a state of the art irrigation system.
Finkbine has played host to a variety of amateur qualifiers and championships over the past few seasons including the 112th Iowa Amateur Championship earlier this year.
The facility hosted the U.S. Amateur qualifier in 2012 and Men's State Amateur in 2014. Finkbine served as host for the Midwest Junior Championship in 2014 and will again in 2015. In addition, Finkbine will be the site of a U.S. Junior Amateur qualifier in 2015 and the Iowa Women's State Amateur in 2016.