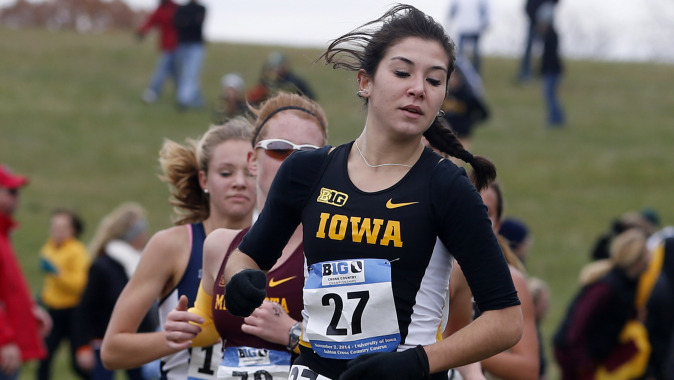 Nov. 14, 2014
Women's Team Results

| Women's Individual Results

|
Men's Team Results

| Men's Individual Results

PEORIA, Illinois — Senior Kevin Lewis concluded his Iowa cross country career as an all-region honoree at the 2014 NCAA Cross Country Midwest Regional Championships today in Peoria, Illinois. Lewis completed the 10,000-meter course in 30:35 to finish 19th overall.
Sophomore Kevin Docherty was Iowa's next finisher with a 46th place finish in 30:58, followed closely by senior Ben Witt (47) at 30:59. Sophomores Anthony Gregorio (31:11) and Nate Ferree (31:20) concluded Iowa's scoring, finishing 70th and 79th, respectively. The Hawkeye men finished seventh overall.
The Hawkeyes finished thirteenth in the women's 6,000-meter race with sophomore Samantha Zishka leading the way for Iowa. Zishka crossed the finish in 21:23, good for 58th place overall. Freshman Marta Bote Gonzalez was the Hawkeyes' second finisher with a 67th-place finish in 21:27. Sophomores Carolyn Newhouse (21:30) and Tess Wilberding (21:31) finished 0.1 seconds apart to finish 79th and 80th. Junior Jocelyn Todd finished 112th (21:53) to round out Iowa's scoring.
"We competed well and ran better than our regional ranking," head coach Layne Anderson said. "We can feel good about the end of the season and carry this momentum ahead into track season."