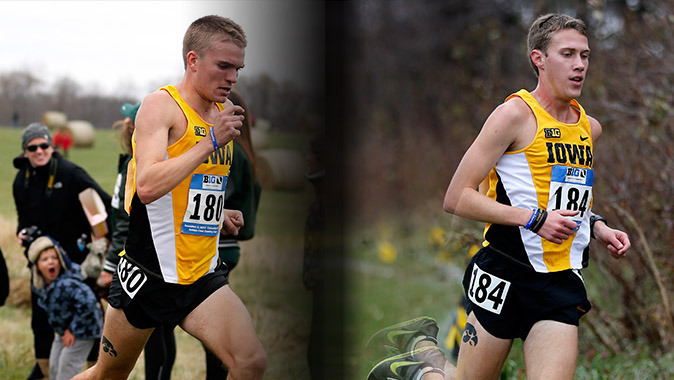 Nov. 14, 2014
Editor's Note: The following first appeared in the University of Iowa's Hawk Talk Daily, an e-newsletter that offers a daily look at the Iowa Hawkeyes, delivered free each morning to thousands of fans of the Hawkeyes worldwide.
By JORDAN BUCHER
hawkeyesports.com
IOWA CITY, Iowa — Seniors Kevin Lewis and Ben Witt were not complete strangers when they joined the University of Iowa cross country team in 2011.
The southeastern Iowa natives first crossed paths in high school. Witt remembers it as a two-mile race, but it turned out to be the beginning of something much longer.
"He was `that guy' that passed me right at the end," Witt, of Burlington, Iowa, said with a smile. "We mostly competed at the state meets for cross country and track, so coming into college, we knew how good of competitors we both were and what we were up against."
The pair hadn't developed a personal relationship at that point, Witt said, but he was excited to know that they would both be competing in black and gold. Since then, the Hawkeye seniors have been playing off of each other's individual strengths.
"We've been the best suited training partners since we've been here," said Lewis, a native of Ottumwa, Iowa. "Ben excels at the shorter, quicker distances and pushes me during speed intervals on the track. I'm stronger at the longer intervals, so I am able to pull him along on those. We balance each other in those ways."
After becoming roommates freshman year as well as day-to-day training partners, Lewis and Witt's running career progressed along with a newly kindled friendship.
"He's definitely one of my closest friends, and he's been one of the biggest single factors of where I am at today [in and out of practice]," Witt said. "To have someone that pushes you to be better every single day — you can't ask for much than that."
Their athletic compatibility has been a contributing factor to their success at the collegiate level. Witt, who finished second for Iowa and 34th overall at the 2014 Big Ten Championships on Nov. 2, is Iowa's top runner in the indoor mile and outdoor 1,500-meters. He owns the fifth-fastest mile time in school history at 4:07.08.
Lewis has been a frontrunner for the Hawkeyes in his past nine cross country races, most recently recording a first team all-conference finish at the Big Ten Championships with a career-best time of 23:52. That time ranks eighth all-time at Iowa. On the track, he leads Iowa in the 5,000- and 10,000-meters, holding the fifth and third fastest-times, respectively, in school history.
Former UI Director of Track and Field Larry Wiezorek recruited both student-athletes and has watched them grow as athletes, teammates, and friends since they first stepped on campus.
"People ask me what I miss about coaching, or what will I miss, and it's that… being in their lives and having relationships with terrific people like them," Wiezorek said. "Obviously, if you're a coach, you want a good athlete and somebody that can help your program, but it's also extra special if they're terrific people and become good friends of yours, and they certainly are."
The Iowa cross country team competes at the NCAA Regional Championships today in Peoria, Illinois. The women's 6,000-meter race begins at 12 p.m. (CT) with the men's 10,000-meter race to follow at 1 p.m. (CT).