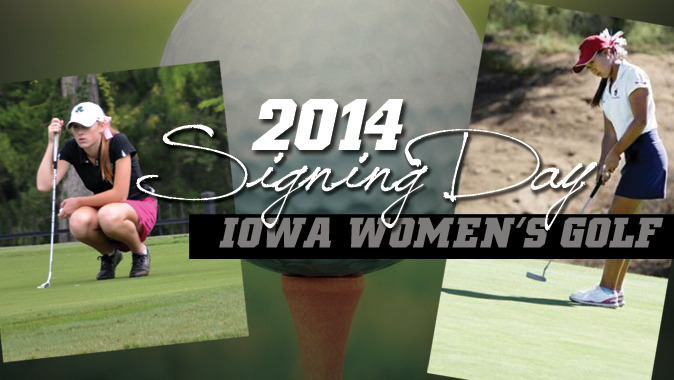 Nov. 14, 2014
IOWA CITY, Iowa — Kristin Glesne (San Antonio, Texas) and Monika Poomcharoen (Temecula, California) have signed National Letters of Intent to attend the University of Iowa next fall, UI head women's golf coach Megan Menzel announced Friday.
"This is a great recruiting class for us," said Menzel. "Monika and Kristin are great additions to an already very solid team. They will fit in well with the players that we have here, and I see them making a strong impact on our lineup next year."
Glesne, who attends Ronald Reagan High School, is a three-time state medalist. The team captain is a two-time all-district and all-region honoree. A standout student, she notched five top-10 finishes as a junior and has notched one win and two top-10s so far during her senior campaign. Glesne has helped lead her team to two conference titles and a runner-up finish, placing second individually as a junior. She holds the school records for lowest season average and lowest round.
The current leader in Player of the Year standings for the Greater San Antonio Junior Tour, Glesne is the defending San Antonio City Champion. She has carded two AJGA wins and three top-10 finishes, and was named Texas Junior Golf Tour Player of the Year in 2013-14.
"Kristin comes from a very solid junior golf program in Texas, as well as a great high school golf program under the direction of coach McCuiston," said Menzel. "She has shown great growth in her game and I have been extremely impressed with her work ethic. Tim Hobby, former Baylor men's coach, is her swing instructor and he has helped take her game to the next level, and her best golf is yet to come over the next few years. Kristin's work ethic will be the difference maker for her at the Division I level."
"I'm so excited for such a big change and I can't wait to begin a new chapter in my golfing career," said Glesne. "Playing collegiate golf at a Division I school has always been my dream, and I can't express how happy I am that I get to do what I love and be part of such an amazing program."
Poomcharoen, who attends Great Oak High School, advanced to the CIF-WSCHA Southern California Regional on Monday, firing a one-under par 71 to tie for fourth. She has made two regional appearances, while winning two Southwestern League titles and two league MVP honors. During her junior year, she won three postseason tournaments in a row, and four overall. This year, she has won two tournaments and finished runner-up twice. Poomcharoen is a four-time team MVP and two-time team captain. She holds school records for season scoring average, lowest nine-hole round (32), and lowest 18-hole round (66).
"We are thrilled to welcome Monika to our team," said Menzel. "Monika is currently ranked 74th in her class and comes in with great experience. She is a great competitor and we feel very fortunate that she has chosen Iowa. She is putting together a very solid senior season and her high school coach, coach Murphy, has had great things to say not only about her golf, but also her leadership and work ethic. We feel as though Monika has the ability to make a very strong impact on our roster next fall. Monika has posted some low numbers and that is exciting to see a player who is not afraid to go low."