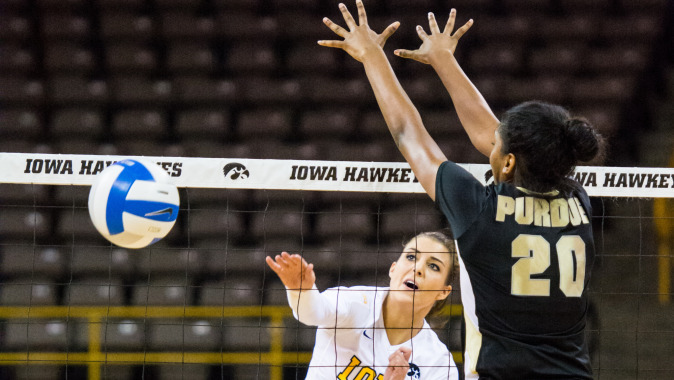 Nov. 15, 2014
Editor's Note: The following first appeared in the University of Iowa's Hawk Talk Daily, an e-newsletter that offers a daily look at the Iowa Hawkeyes, delivered free each morning to thousands of fans of the Hawkeyes worldwide.
By JIL PRICE
IOWA CITY, Iowa — After being swept in seven consecutive matches, first-year University of Iowa head volleyball coach Bond Shymansky knew it was time to make some major adjustments. He started changing the lineup with one goal — getting the most competitive student-athletes on the floor at once.
The lineup adjustment involved adding an offensive component to defensive specialist Julianne Blomberg's arsenal, and increasing setter Alyssa Klostermann's role to include defense as part of the team's back line.
"If I'm going to be a successful coach at Iowa, I have to adjust when we're losing," Shymansky said. "Sometimes you adjust in your strategy and sometimes you adjust your personnel. You mix-and-match, you keep spinning and tweaking it. There's no such thing as a starting lineup.
"You always have to be thinking about what to do and how to respond when things happen. Losing was what necessitated it, but they weren't random choices. Those are two of the most competitive people in our program. We kept saying we wanted a more cohesive competitive group on the court, and we figured out the right combination of that."
The Hawkeyes have won five of their last nine matches since making the switch — a stretch that included a four-match Big Ten win streak (the longest for the program since 1994) and the program's first win over a ranked opponent since 2012.
Blomberg and Klostermann have also enjoyed success in their new roles.
In the last six matches alone, Blomberg has matched her career-high with seven kills on three occasions (at Minnesota, at Marlyland, vs. Indiana), and set a new career best with eight kills in Iowa's win over No. 12 Purdue. She has averaged 1.37 kills per set since the switch, a significant increase from her 0.17 kills per set mark in the first 17 matches of the season.
The Chanhassen, Minnesota, native has also posted career-highs with 20 digs and 31 total attacks against Indiana, and three service aces against Purdue.
"Julianne has done a nice job responding to the mental and emotional pressure of competition that we've been working to instill and develop through practice, spring and the regular season," Shymansky said. "She's mentally ready to go out and compete in the Big Ten. As she has developed into new roles in the lineup, she has applied that mental and emotional toughness to the challenge. That's to her credit.
"There's no reason for us to hold her back or tell her she can't do something because it's clear to me she can do anything she sets her mind to."
Klostermann has fit right in with the back row, adding to her digs total since the switch. Most recently, she matched libero Michelle Fugarino for a team-most seven digs against defending national champion No. 6 Penn State on Wednesday.
"Alyssa has great athleticism, and she's fearless," Shymansky said. "It allows her to stick her nose in there, get on the floor and go after the ball every chance she gets. A lot of that comes from the roots she has from her mom and dad. She comes from a hard-working, competitive family.
"It's also the experience she has playing in the Big Ten. She knows the ball is going to come hard and fast, but she puts her helmet on and gets after it anyway. It's an expanded role and a different one than we originally thought, but she's fulfilling that role."
The Hawkeyes face No. 4 Wisconsin tonight at 7 p.m. (CT) on Mediacom Court in Carver-Hawkeye Arena. Doors open at 6 p.m., and the first 200 fans will receive a free Iowa volleyball tumbler.