Box Score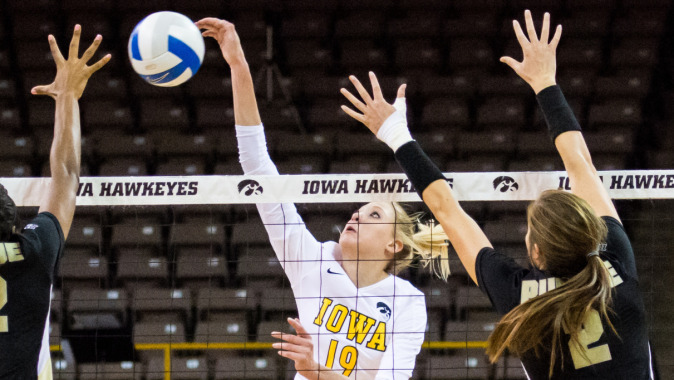 Nov. 15, 2014
Final Stats | Photo Gallery

IOWA CITY, Iowa — The University of Iowa volleyball team fell in straight sets at home against No. 4 Wisconsin Saturday night. With the loss, the Hawkeyes drop to 13-14 overall and 5-11 in Big Ten play.
"I liked the continuation of what we did in the third set at Penn State even though we lost," head coach Bond Shymansky said. "We brought that into the first set tonight against Wisconsin. We've played two top five teams and national champion caliber teams in a row, and we had that same thing going in the first set tonight.
"It looks right; it looks good for what we do and what we can do. We were true to ourselves. I'm pleased with that, but you have to have that for at least three sets in a match. You can see that that doubt creep in sometimes with our group and that's part of being young and that's part of facing a top caliber team, especially the top team in the Big Ten."
Iowa led Wisconsin by as much as four points early, before the Badgers scored six-straight to pull ahead 15-14. The Hawkeyes came charging back to tie it 20-20 — spurred on by a Mikaela Gunderson solo block, Dietz and Julianne Blomberg block assist, and kills by Alessandra Dietz, Taylin Alm and Lauren Brobst — but could not regain the lead as the Badgers went on to win set one 25-21. Alm was dominant in the set, recording six kills and a .750 attack percentage to lead Iowa.
The Hawkeyes used a Kaylee Smith kill and two from Lauren Brobst to establish a 3-2 lead in the second set, but the Badgers went on another 6-0 run to take control. Wisconsin never trailed from there, hitting .458 en route to its 25-13 win. Four Hawkeyes — Gunderson, Blomberg, Brobst and Alex Lovell — posted two kills in the set to pace the Hawkeyes.
Wisconsin used a four-point drive to establish an advantage in the third set and never surrendered it, winning the set 25-18 and ending the match 3-0. Alm's three kills paced the Iowa offense in the final stretch, while Jess Janota and Blomberg each added two.
Alm posted her third double digit kill total in the last five matches, leading the Iowa offense with 10 kills in the match. Alyssa Klostermann dished out a team-most 16 assists. Gunderson and Michelle Fugarino led the defense, recording four blocks and nine digs, respectively.
The Hawkeyes continue Big Ten action on the road next week. Iowa travels to Ohio State Wednesday and Northwestern Saturday.
| | | | |
| --- | --- | --- | --- |
| Iowa vs #4 Wisconsin | 1st | 2nd | 3rd |
| Iowa (13-14, 5-11) | 21 | 13 | 18 |
| Wisconsin (24-2, 15-1) | 25 | 25 | 25 |
Statistical Leaders
Kills: Alm (IOWA) 10 | Bates/Nelson (WIS) 11
Assists: Klostermann (IOWA) 16 | Carlini (WIS) 35
Digs: Fugarino (IOWA) 9 | Carlini (WIS) 9
Blocks: Gunderson (IOWA) 4 | Nelson (WIS) 5