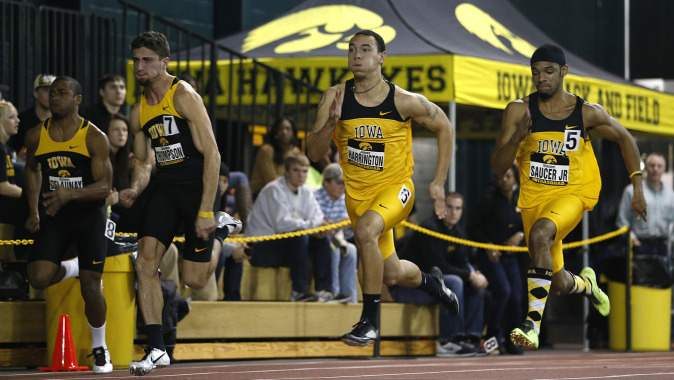 December 3, 2014
IOWA CITY, Iowa — The University of Iowa track and field team opens the 2014-15 season hosting the Black and Gold Intrasquad meet Saturday. The event begins at 4:30 p.m. (CT) at the UI Recreation Building. Admission is free to the public.
The Hawkeye men's roster features five returning All-Americans, including sophomore O'Shea Wilson (4×100), juniors Babatunde Amosu (triple jump) and James Harrington (4×100), and seniors Gabe Hull (discus) and Keith Brown (4×100).
Amosu concluded the 2014 outdoor season with a 13th-place finish in the triple jump (51-11 ¾, 15.84m) at the NCAA Championships to earn second-team all-America accolades. His collegiate-best mark 52-4 3/4 (15.97m), which he recorded at Mt. SAC Relays, ranks third on Iowa's all-time list.
Senior Gabe Hull received second team all-American honors following an 11th-place finish in the discus last year.
Wilson, Harrington, and Brown each competed on the school record-setting 400-meter relay (39.19) that finished sixth at the NCAA meet.
Iowa also returns All-Big Ten honorees Sam Joens (javelin) and Kevin Spejcher (high jump). The juniors finished runner-up in their respective events at the 2014 Big Ten Championships.
The women's team welcomes back every member of the 400-meter relay that placed 16th at the 2014 NCAA Championships — juniors Lake Kwaza and MonTayla Holder, and sophomores Elexis Guster and Brittany Brown. Brown also earned second team all-America honors following an 11th-place finish in the 200 meters. She set a new school record in that event (22.95) at the NCAA West Preliminary, becoming the first Hawkeye in school history to run under 23 seconds.
The 400-meter and 1,600-meter relays rewrote the Iowa record books last season. The 400-meter relay team of Kwaza, Guster, sophomore Alexis Hernandez, and Brown made it around the track in 44.51 to set a new school record, while the 1,600-meter relay team of Guster, Hernandez, Holder, and Kwaza clocked 3:34.83 to record the fastest time in school history.
Holder returns as Iowa's top 400-meter hurdler (outdoor) and 600-meter runner (indoor). Her personal-best time in both events rank third, respectively, all-time at Iowa. Kwaza led the team in the 60-meters, recording the fastest time in school history at 7.41.
Dominating in the field events last season for the Hawkeyes were seniors Annemie Smith, who set a new school-record in the hammer throw with a winning effort of 198-1 (60.38m) at last year's Arizona State Invite, and Khanishah Williams, who was last season's Big Ten outdoor champion in the high jump (5-7 ¼, 1.71m).
The Iowa track and field team officially commences the indoor season Jan. 10, hosting Illinois and Missouri at the Border Battle, which begins at noon (CT) at the UI Recreation Building.