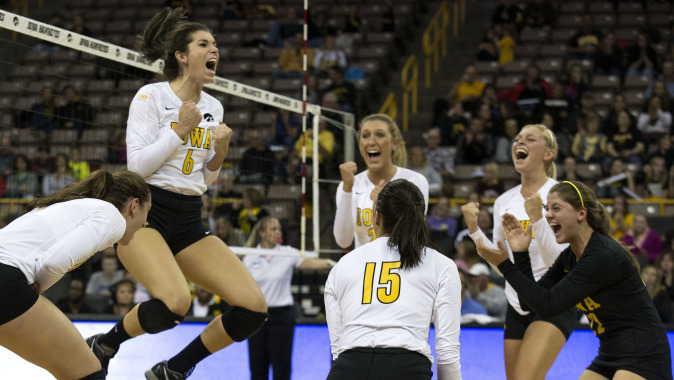 Dec. 9, 2014
Editor's Note: The following first appeared in the University of Iowa's Hawk Talk Daily, an e-newsletter that offers a daily look at the Iowa Hawkeyes, delivered free each morning to thousands of fans of the Hawkeyes worldwide.
By JIL PRICE
hawkeyesports.com
IOWA CITY, Iowa — Passionate leader. Resilient competitor. Optimistic believer. These are just a few descriptions of what senior Alessandra Dietz embodied in her final season with the University of Iowa volleyball program, and it was a good one.
"Dietz was a go-to hitter for us who demanded the ball," first-year head coach Bond Shymansky said. "She knew that she could score a point for us when we needed it the most, and we felt she prospered in our new system. She was able to become a more dynamic and efficient attacker, which pushed her to meet her potential.
"She is a passionate competitor, who was constantly breathing that passion into her teammates in the tightest of competitive moments. She had great resilience even after momentary failure. You could tell she was ready to get back out there, do it again, and believe that she would succeed. She was a crucial part in the change of thinking inside our team about the ability to win."
Dietz — a team captain who started every match (31) and played in every set (106) — recorded the highest single season attack percentage (.348) of her career and the most service aces in a single season (27).
The middle blocker broke a five-year-old single match attack percentage record, hitting .882 with a season-high 15 kills at South Dakota State on Sept. 13, and closed her career with a .278 attack percentage over her three-year Hawkeye career, which broke an eight-year-old Iowa record (.276) set by Jen Barcus in 2006.
Dietz is also 11th all-time at Iowa with 274 career blocks, and earned all-tournament team accolades at the Residence Inn Challenge and SDSU Challenge in her final year.
"It was a good way for me to end my college volleyball career," Dietz said. "It was a new start for us and my teammates and I could buy in to what the new coaching staff was bringing into the program. I was excited to get behind that and help lead my teammates."
The Bloomfield Hills, Michigan, native was happy to be a part of the new era of Iowa volleyball under Shymansky, who guided the team to its first six-win Big Ten Conference season since 2008, longest conference win streak in 20 years and first win over a ranked opponent since 2012 in his first season.
"I'm glad I was able to be a part of this change in the volleyball program," Dietz said. "We made a lot of progress this year, but it's just a little bit compared to what I know this team and coaching staff will accomplish in the years to come. I'm happy to say I was a part of it and that I contributed to that success.
"It's easy to buy into what this coaching staff is doing. They are very passionate about what they do and about winning. Our team was close this year, and it was easy for them to follow me as a leader, whether they were a freshman or a junior, we had a tight knit team."
Shymansky sees Dietz and the 2014 senior class as examples of the success student-athletes can have in a short span of time. Their hard work, dedication, and willingness to buy in have laid a necessary foundation that will be used to build up the Hawkeye volleyball program.
"Dietz will be a foundational model of how a middle attacker can move and what they can do in our system," Shymansky said. "It's still just the tip of the iceberg for us. We're exploring what the offensive system is going to look like in the future. She has the right jumping off point as we look at where we want to go.
"She made great strides and learned a lot as a senior. She defied the, 'You can't teach an old dog new tricks' adage. That is difficult and tough to overcome, but she did it and that is to her credit."