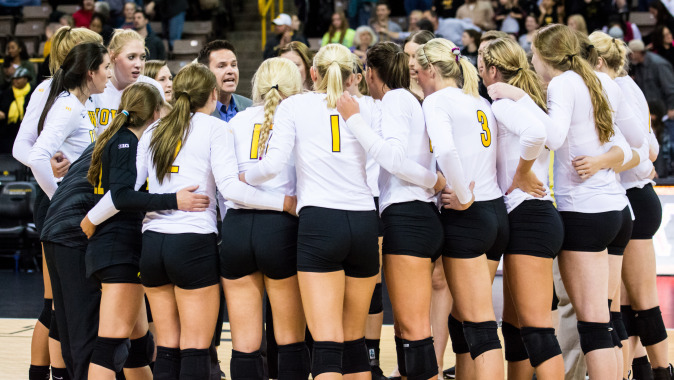 Dec. 13, 2014
Editor's Note: The following first appeared in the University of Iowa's Hawk Talk Daily, an e-newsletter that offers a daily look at the Iowa Hawkeyes, delivered free each morning to thousands of fans of the Hawkeyes worldwide.
By JIL PRICE
hawkeyesports.com
IOWA CITY, Iowa — University of Iowa volleyball started a new chapter in 2014, implementing a new system under the program's ninth head coach Bond Shymansky.
The Hawkeyes bought in to what Shymansky and the coaching had to say, went through major changes, and achieved success along the way. The team closed the season 14-17 overall and 6-14 in Big Ten Conference play.
Iowa's six conference victories were the most for the program since 2008. Four of the Big Ten wins came consecutively, as the Hawkeyes defeated Maryland (3-0), Rutgers (3-1), Indiana (3-2) and No. 12-ranked Purdue (3-1) midway through the year. It is the longest conference win streak for the program since 1994, when Iowa won eight consecutive matches and went on to clinch a berth to the NCAA Tournament. The win over the Boilermakers marked the team's first ranked win since 2012.
"The instant success didn't come easy," Shymansky said. "Our group worked hard to get that success jump started this season. What it means for us in the long run is that there is going to be deeper belief, deeper buy in, and higher expectations. We see how it translates into how our student-athletes carry themselves every day, with recruits who are considering being a part of our program, and the ones that have already made the leap of faith and committed to building something special with us at Iowa.
"It's been a great momentum-builder. We didn't achieve every goal we set out to meet this season, but along the way we found some new goals that were surprises. That was rewarding for us and our program."
A group of newcomers played an important role in the team's success this year. Five freshmen — setter Kaylee Smith, outside hitter Danielle Cabel, right-side hitter Taylin Alm, libero Michelle Fugarino, and right-side hitter Jess Janota — and junior transfer middle Mikaela Gunderson all earned starts in their first season with the Hawkeyes.
"Transfers make an immediate impact," Shymansky said. "They have experience, but they're transferring because they're looking for a change. They want to get something right. They play with a different type of intensity. They have a hunger to make the most of what they have left of their careers and can bring in change that can benefit the whole program.
"The freshmen really grew up this year. You could watch them go from being hopeful to being confident. They became steadier and more aggressive. What it shows to recruits is that everybody has an equal shot when they come into the program. Seniority means nothing, it's about performance and chemistry. Sometimes the unusual suspect will step forward and become a key player."
Shymanksy has seen the buzz generated by Iowa volleyball spread across the nation to coaches, recruits, fans, and supporters. They believe that success is coming and want to be a part of it in some way.
"I've always believed we're delivering the right message to people outside the program, which is we're heading somewhere great and we need great people to jump on board and be a part of it," Shymansky said. "The opportunity to be a significant part of what we're doing is wide open. It's an exciting journey that we're on.
"I thought when I came here I was going to have to work hard to get people to believe we were going somewhere special, but that's not the case. Everywhere I go, whether I'm talking to recruits, coaches, supporters, and fans, the belief is there.
"It's around Iowa volleyball and the volleyball community in the Midwest and nationally. People believe we're going to do it. It's a better jumping off point for me. I don't have to explain to people that it could happen. People already see that it's happening."
The Hawkeyes are setting their sights high in year two, with goals of winning more and reaching the NCAA Tournament in 2015. Shymansky knows Iowa is ready to raise its stock in the top volleyball conference in the country.
"We're striving to be an NCAA Tournament team, which means winning more matches in Big Ten play and getting better out of conference wins," Shymansky said. "We want to cement who we are as competitors and as a group inside our program. We know now that we can win, so we need to take the question of winning out of our minds and start applying the commitment to being the best every day. Our program is ready to make the statement that we are here and we are going to win."