Dec. 18, 2014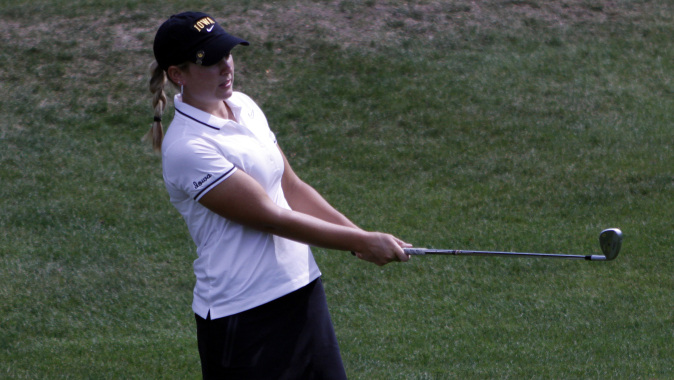 By Exodus Cardoza
hawkeyesports.com
IOWA CITY, Iowa — Former University of Iowa women's golf standout Kristi Cardwell finished her college golf career during the 2012-13 season. During her years as a Hawkeye (2009-2013) Cardwell earned many accolades and honors.
Cardwell tied a 54-hole school record (213) at the Wyoming Cowgirl Classic during the 2011-12 season, setting a personal best 18-hole score (68) at the event, that score ranks second all-time in Iowa program history. She shot a (217) to tie the third lowest 54-hole score for the Iowa program at the Challenge at Onion Creek in the 2012-13 season.
Cardwell leaves an impressive chapter of her career at Iowa, and looks back fondly on her days as a Hawkeye.
"My favorite Iowa golf memory was when I got my hole-in-one at New Mexico, it was my first and only hole-in-one in my career," said Cardwell.
As Cardwell ended her college career she set her sights on a new goal. That goal was to become a professional golfer and earn a spot on the LPGA tour.
"The transition from college golf to playing professionally wasn't very different, but you're a professional you're on your own and you come up with your own schedule. There are no coaches or teammates to push you," said Cardwell.
Cardwell has had the support of many individuals at Iowa as she attempts to reach her ultimate goal of playing on the LPGA tour. This support comes from former coaches and teammates.
"My former coaches and teammates have supported me in every tournament I participate in. I get texts and calls from them often. That support from them is great and it's nice to have extra people helping you out in this process," said Cardwell.
Cardwell recently participated in the Q school tournament that sends the top-20 finishers to the LPGA and earns them full tour cards. Cardwell had a good run before falling short of qualifying for the final round in the tournament.
"Our program is really happy for Kristi. It is a great accomplishment to get to the final stage and we are all pulling for her. She seems to really be enjoying the experience and is playing some consistently good golf," said UI head coach Megan Menzel.
As she rests up during the offseason, the Symetra Tour approaches starting in February. The Symetra Tour will be the next competition that Cardwell plans to participate in.
"I have to keep grinding it out and continue to improve my accuracy with my putting. I need to keep playing in tournaments to gain more experience. Its offseason now, I'm practicing indoors in Indiana for a little bit before I head down to Florida in January," said Cardwell.
Cardwell will continue to have support from Hawkeyes everywhere as she seeks to fulfill an opportunity of a lifetime.