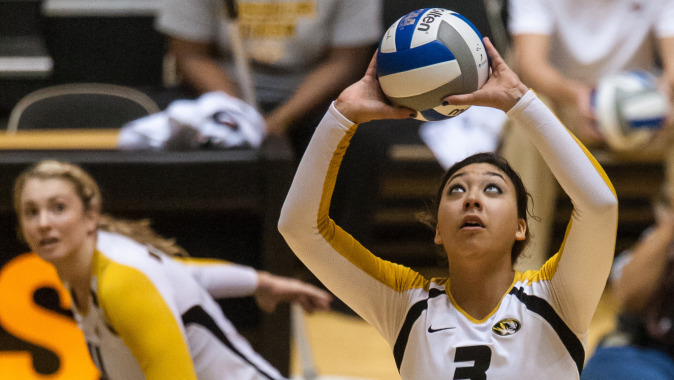 Jan. 7, 2015
IOWA CITY, Iowa — University of Iowa head volleyball coach Bond Shymansky announced the addition of Loxley Keala to the 2015 roster today. Keala — a setter — transfers in from Missouri and joins the Hawkeyes this spring with two seasons of eligibility remaining.
"We've known Loxley since she was a sophomore in high school and had the pleasure of getting to know her through the recruiting process in the first go-around," Shymansky said. "She chose to go to Missouri, and we parted ways.
"It's great how things can come full circle. When she contacted us saying she was released and looking for a new home, it was like we picked up right where we left off. The relationship was already established, and we shared with her the great opportunity that she has to impact our program at Iowa."
Keala appeared in every match (33) and set (128) of the 2014 season as a setter in the Tigers' 6-2 offensive scheme. She led the team with 718 assists and 5.61 assists per set, was second on the squad in service aces (22) and third in digs (264). She posted 14 total double-doubles (assists and digs) over the course of the season, including a streak of seven matches in a row with a double-double, and was Missouri's leader in assists in 22 contests.
"Loxley is smooth as silk, has great touch in her hands and is really athletic in her movement," Shymansky said. "She has a fearless and aggressive setter mentality that will suit our system well that we're implementing. This really jump starts our program and keeps us moving on this upward trajectory we're already on."
As a freshman in 2013, Keala played in all 36 matches and 117 sets of the season as a defensive specialist. She helped Missouri to a 35-1 record overall and an unblemished 18-0 mark in Southeastern Conference play. The Tigers advanced to the NCAA Second Round, sweeping IUPUI before falling to No. 19 Purdue in the second round.
Shymansky has added three newcomers to the 2015 roster. Joining Keala will be freshmen Molly Kelly and Reagan Davey.