Photo Gallery 1

| Photo Gallery 2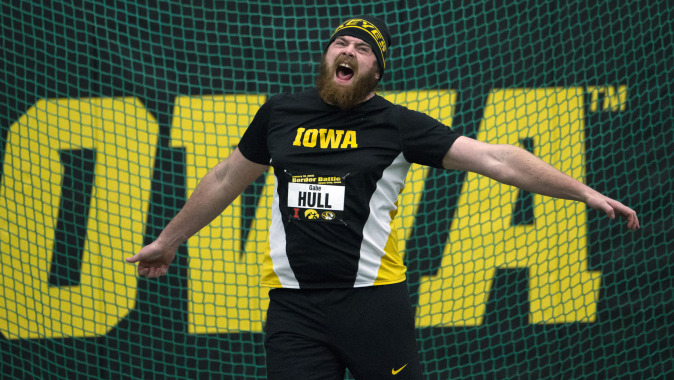 Jan. 9, 2015
Men's Results

| Women's Results

IOWA CITY, Iowa — The University of Iowa track and field team opened the indoor season with an indoor discus competition at the Hawkeye Tennis and Recreation Complex on Friday afternoon. The discus competition was the first event of the inaugural Border Battle featuring teams from Iowa, Illinois and Missouri.
Senior Gabe Hull (182-3; 55.55m) and sophomore Avery Meyers (166-5; 50.74m) finished second and third, respectively, in the men's competition. The duo finished behind Chase Madison (191-4; 58.33), who was competing unattached. Junior Sam Joens came in seventh with a toss of 146-1 (44.53m).
"Throwing discus in January is not heard of," said Hull. "Throwing indoors was awkward to say the least. I didn't hit the goals that I would have liked to hit today, but I'm probably where I should be for this time of year."
Dakotah Goodell grabbed a second-place finish in the women's competition. The junior recorded a toss of 156-4 (47.67m) to finish just behind Jill Rushin (156-6; 47.70m) of Missouri. Sophomore Lindsay Herra finished third with a toss of 151-2 (46.09m).
"It was a fun way to start the season," said throws coach Andrew Dubs. "We have been throwing into a net all year, so this is the first time we threw open. It was definitely something that's unorthodox, but I know the kids really enjoyed it. They all competed well, had fun and did a good job."
The Border Battle resumes tomorrow at the UI Recreation Building. Field events are set to begin at 12 p.m. (CT) with running events following at 1:15 p.m. (CT).

?