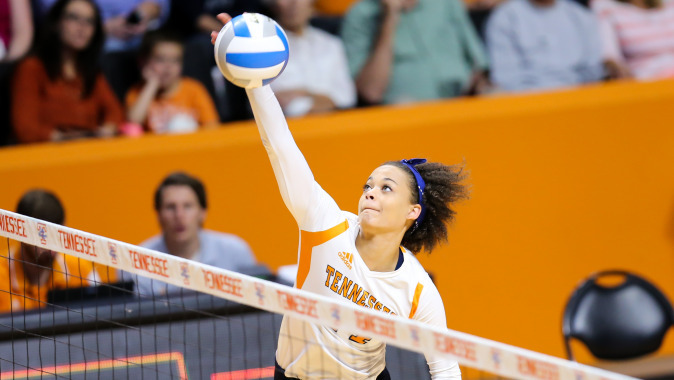 Jan. 16, 2015
IOWA CITY, Iowa — University of Iowa head volleyball coach Bond Shymansky added middle blocker Ashley Mariani to the 2015 roster today. Mariani transfers to Iowa after playing at Tennessee and joins the Hawkeyes this spring with two years of eligibility left.
"It's great for us to have another addition to our roster that has a high level of experience," Shymansky said. "Certainly this adds more depth to our middle blocker position. It's a good sign for us that we're able to reach into Texas to pull a top level recruit from that region, which is something we would like to continue to do in the future.
"Ashley is very quick-twitch and plays the game with high intensity. She has a lot of speed and dynamic movement, but most importantly she has the right personality and temperament fit for how we like to compete and how we like to have fun while we're winning."
Mariani played in every match of her sophomore season with 29 starts. She led the Lady Vols in kills in six matches, three of which occurred in the final four contests of the seaon. The Arlington, Texas, native compiled a career-high 18 kills twice during the season and a career-high six blocks on two occasions. She ended the season fourth on the team in kills (168), kills per set (1.75) and service aces (11).
As a freshman, Mariani started all 32 matches for the Lady Vols and led the team in kills (292) and total attacks (972). She reached double-digits in kill in 12 contests and posted back-to-back double-doubles during the year. The middle garnered Cincinnati All-Tournament recognition after leading all players with 72 kills opening weekend. In her first collegiate competition, Mariani posted 10 kills and four blocks.
Mariani will begin practicing with the team in the spring and will be a junior on the 2015 roster.
"The spring is such a huge time for us to grow physically as a team and get stronger," Shymansky said. "It's a significant training time because we get so many more reps. When new players can be here in the spring they get a lot of social time with the team and coaching staff. This is a great jumpstart to Ashley's career inside of our program and will certainly help everybody in terms of familiarity."
Shymansky has announced the addition of four newcomers to the 2015 fall roster. Joining Mariani will be junior Loxley Keala, and freshmen Reghan Coyle, Reagan Davey and Molly Kelly.
"The 2015 team is certainly shaping up to be strong again and we'll continue to get stronger," Shymansky said. "This is the process of evolution for our program as we're striving to win the Big Ten. We're glad that all five players we're adding have something significant to contribute to our lineup in the immediate future."