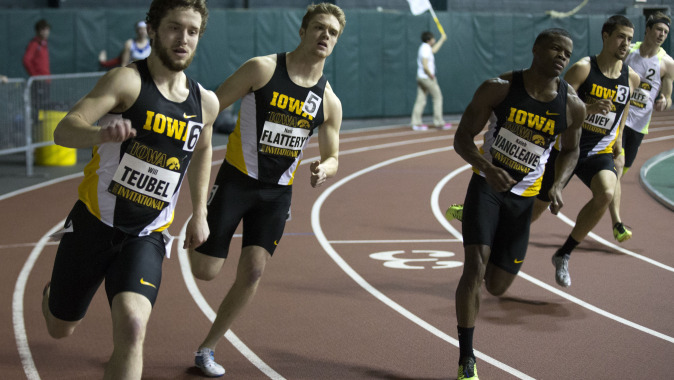 Jan. 19, 2015
Editor's Note: The following first appeared in the University of Iowa's Hawk Talk Daily, an e-newsletter that offers a daily look at the Iowa Hawkeyes, delivered free each morning to thousands of fans of the Hawkeyes worldwide. To receive daily news from the Iowa Hawkeyes, sign up HERE.
By CHRIS BREWER
hawkeyesports.com
IOWA CITY, Iowa — This week's track and field road trip is a short one, but it is not as abbreviated as one of the marquee races.
The men's 600 meters dwarfs into the 600 yards when Iowa competes at the Big 4 Duals in Ames, Iowa, on Saturday. According to Iowa's Brennan Davey, that equates to a difference of 50 meters, but not enough of a difference to affect his training.
"I'll just go a little faster," said Davey, who ranks No. 7 all-time on the school's 600-meters list.
Iowa State is hosting the second annual Big 4 Duals, a travel-friendly track and field meet featuring the state's four Division I schools — Drake, Iowa, Iowa State, and Northern Iowa. The Cyclones compete in the Big 12, which means a Big 12 sanctioned events, which for Davey means 50 fewer meters. Or in other words, a faster time.
Davey is targeting a sub one-minute, 10-second time, but almost as important, the senior needs a healthy finish. He was unable to compete against his in-state foes last season because of a nagging hamstring injury, and in the 2015 season opener he was unable to complete the 400 meters, pulling out due to another flare up.
This week, and this season, he's determined to get it done right.
"I got banged up at the last meet, but I expect to compete Saturday in the 600 and the 4×4," said the Indianola, Iowa, native. "Any time you run against in-state schools it gives you that extra motivation. We want to go out there and show that the Hawkeyes are the best track and field team in the state."
Davey is not the only senior with something to prove. Des Moines native Kaleb VanCleave also missed last season's Big 4 Duals due to injury, and though the damage wasn't of great significance physically, it certainly ran into some bad timing.
"I hurt my hamstring a week before," VanCleave said. "It wasn't a bad injury. I only missed a couple days, but had to miss out on that meet, which was a little disappointing because it was against all the Iowa schools."
VanCleave is also slated to run the 600 yards Saturday, and, like Davey, he expects a quick pace. The Lied Recreational Center on the campus of Iowa State is a 300-meter track, which means longer straightaways and looser turns.
"I'm pretty excited because it's on an oversized track, so everyone will be running faster," he said. "It should be a lot of fun."
Fun and friendly?
"My mom lives in Des Moines, so she'll drive up," said Van Cleave, "and I have a couple friends that go to Iowa State that will probably come, hopefully they'll still cheer for me."
Last year the Hawkeye men and women swept their head-to-head duals, claiming rights to the mythical state championship. UI director of track and field Joey Woody says a clean sweep is the goal again this year, but it is just one small goal in a much larger picture.
"This time of the year we are always talking about the Big Ten Championships because that is what we're always focused on," said Woody. "But in order to get there you have to have head-to-head competition, and any time you step on the track with the Iowa uniform, you're competing head-to-head against everybody else.
"This is an exciting opportunity for our kids to go to Iowa State and get on an oversized track, put up some great performances, and obviously compete head-to-head against the in-state rivals. It's a big deal in a stepping process toward the Big Ten Championships."