Jan. 28, 2015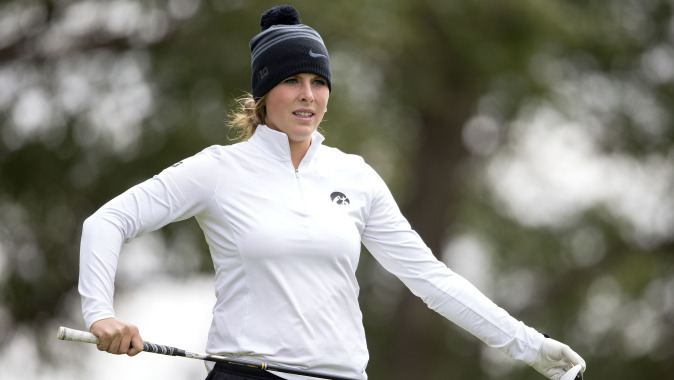 Q: What is it like working with coach Menzel and coach Selders?
A: Coach Menzel pushes us to get better every day, not only in golf, but in everything we do. She is a fun person to be around but also knows how to get down to business when needed. She is very knowledgeable about the game and continues to teach us new skills to improve our games. Our overall coaching staff is exceptional and we are lucky to have a group of people who believe in us and challenge us on and off the course.
Q: What led to you to Iowa City and the Hawkeye golf program?
A: The key factor that led me to Iowa City would be the overall energy and atmosphere of the school. The facilities and coaches also led me to the Hawkeye golf program.
Q: What facet of your game has improved the most since last spring?
A: My short game has improved most since last spring, specifically chipping around the greens and getting up and down from shorter distances.
Q: What are the team goals for the spring season?
A: Winning a tournament is always a big goal, but also averaging below 300 and placing within the top five at the Big Ten Tournament.
Q: What did you do over the winter break?
A: I went to Texas to visit my sister and meet my nephew for the first time.
Q: What was your favorite golf memory growing up?
A: I played a lot of golf when I was young and competed on a local kids tour ever since I was old enough. I made a good friend named Katie, who later passed away from a brain tumor when we were 13. My favorite memories growing up were whenever I got to play with her.
Q: What was the last movie you saw in theaters and what did you think of it?
A: American Sniper. I really enjoyed the movie, but I would have to say the book is much better, as are most books compared to movies. Chris Kyle has an incredible story and I would highly recommend seeing it.
Q: What do you like to do in your free time?
A: I like to read, go to movies, play other sports, and hang out with friends.
Q: What is your favorite home-cooked meal when you go home and why?
A: Spaghetti pie is probably my favorite home-cooked meal, although all are delicious. It's basically like lasagna but with spaghetti noodles. It's my favorite because I like Italian food.
Q: What is your favorite Hawkeye memory so far?
A: My favorite Hawkeye memory so far is being able to do what I love and travel all around the United States. with my teammates who are some of my best friends. We get to do a lot of fun stuff on our trips, but getting a tour of The Big House (Michigan Stadium) at Michigan was pretty memorable.
The Hawkeyes return to action Feb.15-17, traveling to Rio Grande, Puerto Rico to take part in the Lady Puerto Rico Classic for their spring season opener.