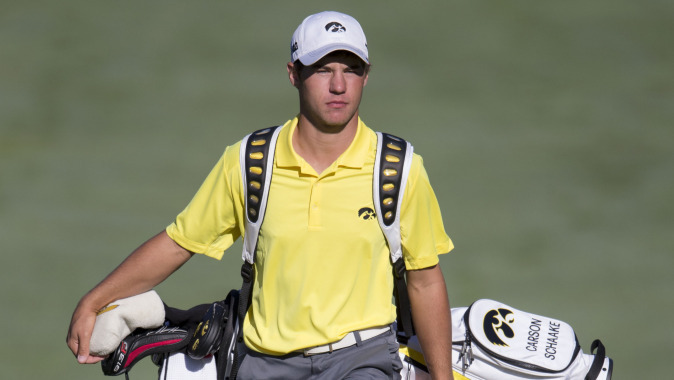 Jan. 28, 2015
Q: Why did you choose the University of Iowa?
A: After visiting the University of Iowa and seeing all of the amazing things that this school has to offer, the choice was obvious. I wanted to come to a school where I could get a great education and be on a team that made me better each year I was here. Being born in Iowa and having family here obviously didn't hurt my chances of coming here, but that is not the only reason why I picked the University of Iowa. At the time, I was looking for a place where I could be myself and grow as a student, player, and person. I wanted to surround myself with other individuals that wanted to achieve their dreams as much as I do. Coming from a high school team that won, I wanted to be part of a team that wanted to win just as badly as I did.
Q: What is it like working with head coach?Tyler?Stith and assistant coach?Dan Holterhaus?
A: Coach Stith and coach Dan are both amazing coaches. I am so fortunate to have two amazing guys to work on my game with and spend hours talking about golf with. Coach Dan and I could spend hours talking about so many aspects about the game. He really understands what I want to accomplish in my time here and I could not be luckier to have him as a coach.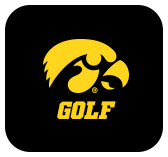 This being Coach Stith's first year, I really didn't know how things were going to work when it came to communication and the chemistry with the team. After walking into Hoak for the first time this year and talking to coach Stith for the first time as the teams' head coach, I knew there was something special about him. Coach Stith and I think very similarly when it comes to what needs to be done to be successful, not only in golf, but in the classroom as well. I really admire the fact that he wants to win and gives the team chances to win each tournament. Coach Stith is very hard working and we as a team can see how much work he puts in and that just makes us want to work harder, get better, and do as well as we can each and every day. We are so lucky to have two coaches that want to win and understand what kind of hard work needs to be done so that we can be in situations to succeed in the end.
Q: What are your individual goals for this season?
A: I have lots of goals. Some that are personal and only a couple people know and others that I would be happy to share. My main goal is to put myself in situations to win. If I have chances to win in the end I will come out with my fair share of victories. All I can do is give myself chances and keep learning to get better so that I can reach levels in my game that I know I can get to. Another main goal that I have been focusing on during the offseason is my short game. If you look at the all-time greats like Tiger Woods they have the best short games. I want to keep getting better at reading greens and being smarter so that I can save one or two shots in a round which could be the difference between winning or placing second.
Q: Where is your favorite place to eat in Iowa City? What do you order?
A: PepperJax. I order a steak philly with green peppers.
Q: Where is your favorite place on campus to spend time and why?
A: Hoak Golf Facility for sure. I think my favorite times spent there are when I'm alone because I can hit a bunch of crazy shots and I can use my imagination to work on my game. Being able to hit balls by myself brings some sort of peace over me that I can't even describe. I just love being there.
Q: Who are the most influential people in your life?
A: I honestly could not have better parents. They are the greatest people in the world and I really don't know what I would do without them. Both of my parents are so hard working, and being able to grow up seeing what kind of work it takes to be successful has really helped me.
As a golfer, Tiger Woods has always and will always be the biggest role model in my life. Watching Tiger play golf is one of my favorite things to do and that will never change. I admire the way he carries himself on the golf course. He has this confidence that he walks with everywhere that he goes. For me, watching him play and think his way around the golf course is amazing.
Q: What are your plans for after college?
A: I have always wanted to play golf after college. It's a long ways away and I know that if I keep working hard and keep putting in the time I can achieve the goals that I have set for myself.
Q: What is your favorite golf memory?
A: Winning state in back-to-back years. I won the state tournament both my junior and senior years of high school, with both of them ending via a playoff. I birdied the first playoff hole and to get that win was so special to me. I had such an amazing high school golf team and for us to end on a note like that was incredible.
Q: Who is your favorite professional sports team?
A: St. Louis Cardinals.
Q: If you were a super hero, what super power?would you have?
A: Flying.
Q: You're stranded on an island, what three items do you absolutely need?
A: 7 iron, CranApple juice, and a bow and arrow.
Q: What is your favorite song at the moment?
A: Chiddy Bang – Opposite of Adults.
Q: Where is your dream vacation to?
A: Hawaii.
Q: What are some of your hobbies/what do you do in your free time?
A: I love to hunt and fish. I grew up hunting, fishing, and golfing with my grandpa, so when I have time off from golf in the spring and fall I try and make it to our cabin so I can go hunting for turkey or deer.
Q: What is your favorite movie?
A: Tin Cup.
Q: What is your favorite app on your phone?
A: Instagram.