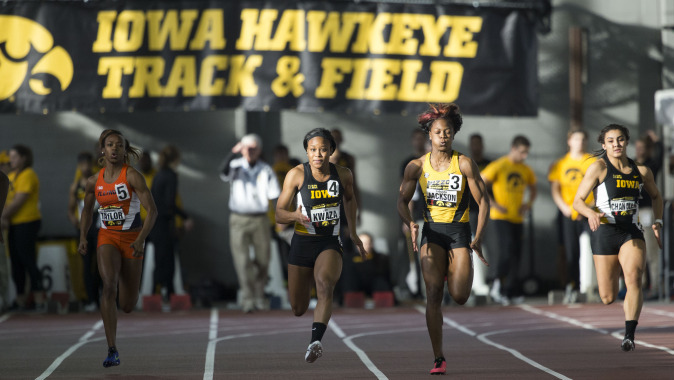 Feb. 4, 2014
Weekly Release

THIS WEEK
The University of Iowa track and field team competes at the Husker Invite in Lincoln, Nebraska on Friday and Saturday. The first day of competition opens with multi-events at noon (C.T.), followed by field events at 4:30 p.m. (C.T.) and running events at 6 p.m. (C.T.). Saturday begins at 10 a.m. (C.T.) on Feb. 7 with multi-event competition; field and running events to follow at noon (C.T.). There will be an awards presentation at the conclusion of the meet at 5 p.m. (C.T.). Competition will reside in the Bob Devaney Sports Center.
LIVE RESULTS
Live results will be available on the track and field schedule page at hawkeyesports.com.
SCOUTING THE COMPETITION
On the women's side, the Hawkeyes face five nationally ranked teams, including Kansas State (11), Oklahoma State (14), Southern Cal (20), Maryland (22), and Auburn (23). In the men's competition, Alabama and Oklahoma State are ranked 12th and 16th nationally, respectively.
LEWIS REWRITES RECORD BOOK
Senior Kevin Lewis (7:57.06) became the school record-holder in the men's 3,000-meters at the UW Invitational in Seattle on Jan. 31. The Ottumwa, Iowa, native is the first Hawkeye in school history to break the eight-minute mark in that event, overcoming Jeff Thode's time of 8:00.38 set in 2011. He currently holds the top time in the Big Ten. Senior Ben Witt also registered a career-best mark, crossing the line in 8:20.12.
LAST OUTING
The Hawkeyes traveled to Ames, Iowa for the annual Big Four Duals on Jan. 24. The men's team went 3-0 against Northern Iowa (87-70), Iowa State (87-55), and Drake (100-53) to claim the team title, while the women's team topped Iowa State (70-53) and Drake (77-64), but fell to Northern Iowa (78-72).
Iowa secured 12 event titles and landed six athletes on the Big Ten's top performers list. Freshman Jahisha Thomas (60-meter hurdles/8.60), senior Lake Kwaza (60 meters/7.42), juniors James Harrington (200 meters/21.51), Kerry Dean Jr. (long jump/22-03.00, 6.78m) and Klyvens Delaunay (triple jump/48-03.25, 14.71m), and freshman Michael Melchert (3,000 meters/8:36.37) were among Iowa's top finishers who captured gold.
SWEEPING THE 600 YARDS
The Hawkeyes swept the field in the men and women's 600-yard races at the Big Four Duals. Senior Brennan Davey (1:11.24), sophomore Mitch Wolff (1:11.32) and senior Kaleb VanCleave (1:11.71) finished first, second and third, respectively, in the men's race.
Sophomore Mahnee Watts crossed the 600-yard mark in 1:22.82 to capture the women's title. Her time ranks fifth on Iowa's all-time list. Junior Kaitlyn Nelson (1:24.52), sophomore Katharina Trost (1:24.65), and senior Adrianne Alexia (1:24.87) grabbed second, third, and fourth-place finishes.
800-METER DEBUT
Junior MonTayla Holder tested her ability in a new distance at the annual Big Four Duals on Jan. 24. The Indianapolis, Indiana, native made her collegiate 800-meter debut in winning fashion, crossing the line in 2:10.34. That time ranks ninth in school history and eighth in the Big Ten.
SPEJCHER JUMPS B1G
Junior Kevin Spejcher set a new indoor personal best in the men's high jump placing second at the annual Big Four Duals on Jan. 24. His jump of 7′ 0.5″ (2.15m) currently ties for third in the Big Ten, as well as Iowa's all-time list. The Bloomingdale, Illinois, native was the Big Ten runner-up at last year's outdoor conference championships (2.14m).
THOUGHTS FROM WOODY
"This will be a really important meet for us. It will really challenge our athletes to handle a two-day meet situation with running prelims and finals. It will be a great way for us to see where we stand against a lot better competition in all the event areas."
NEXT ON THE BLOCK
The Hawkeyes travel to the Iowa State Classic in Ames, Iowa and the Tyson Classic in Fayetteville, Arkansas from Feb. 13-14.