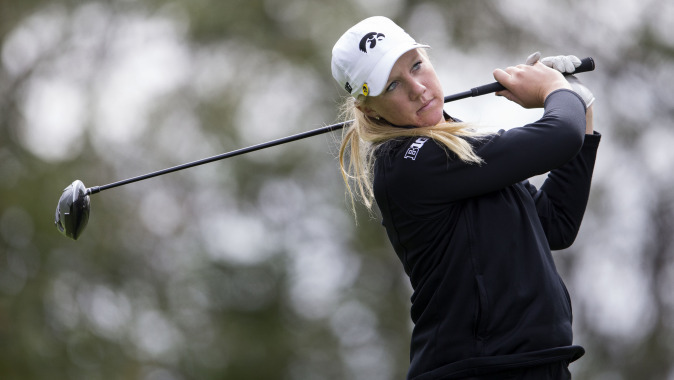 Feb. 5, 2015
Q: What is it like working with coach Menzel and the Iowa coach Selders?
A: I've learned a lot working with coach Menzel and coach Selders. I really enjoy working with them and the team. Working with them has taught me many skills, on and off the course. I am very grateful to be part of this program.
Q: What led to you to Iowa City and the Hawkeye golf program?
A: The team and coaches were great. I have always been a huge Hawkeye fan, and the facilities are amazing.
Q: What facet of your game has improved the most since last spring?
A: I have improved the most on my mental game and being more focused on the target.
Q: What are the team goals for the spring season?
A: Our goals are to play the best we can every day and to improve every single day. We are working on accepting challenges and moving up in the rankings.
Q: What did you do over winter break?
A: I went to Florida over winter break to play and got a great lesson from Mike Bender.
Q: What was your favorite golf memory growing up?
A: Playing with my grandma when I was nine and getting a hole in one at our course in Charles City.
Q: What was the last movie you saw in theaters and what did you think of it?
A: The last movie I saw was The Wedding Ringer and it was very funny.
Q: What do you like to do in your free time?
A: I like to hang out with my friends and family and go on vacations.
Q: What is your favorite home-cooked meal when you go home and why?
A: My favorite meal is my mom's chicken dish.
Q: What is your favorite Hawkeye memory so far?
A: So many great memories, but I really enjoy traveling with my teammates and coaches and playing some amazing courses.
The Hawkeyes return to action Feb.15-17, traveling to Rio Grande, Puerto Rico to take part in the Lady Puerto Rico Classic for their spring season opener.