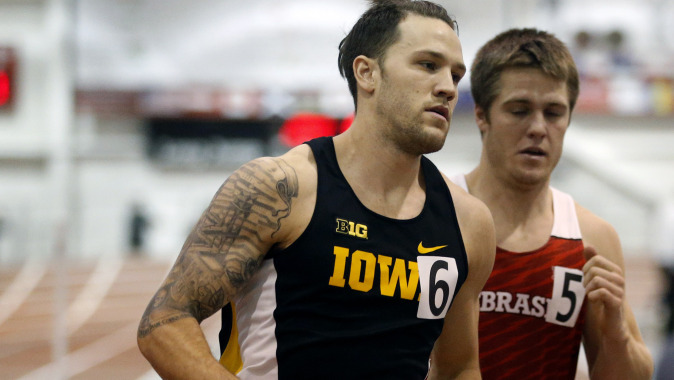 Feb. 11, 2015
Weekly Release

THIS WEEK
The University of Iowa track and field team splits competitors between the Iowa State Classic in Ames, Iowa, and the Tyson Invitational in Fayetteville, Arkansas, for competition on Friday and Saturday.
IOWA STATE CLASSIC
The Iowa State Classic begins Friday at 11 a.m. (CT) with field events. Running events follow at noon (CT). Competition resumes on Saturday at 9:30 a.m. (CT). The Iowa State Classic will be held at the Lied Recreational Center on the campus of Iowa State University.
TYSON INVITATIONAL
The Tyson Invitational is set to begin Friday at 1 p.m. (CT) and continue through Saturday. The invite is held at the Randal Tyson Track Center on the campus of the University of Arkansas. The Tyson Invitational features 15 nationally ranked teams on the men's side, including Florida (2), Arkansas (3), Texas A&M (4), Penn State (5), and Nebraska (7).
For the women, 12 teams — Georgia (1), Florida (2), Arkansas (3), Texas A&M (4), Texas (6), Kentucky (7), Kansas State (10), Texas Tech (12), Florida State (13), Akron (14), Oklahoma State (15), Clemson (22) — appeared on the most recent USTFCCCA national rankings released Feb. 9.
LIVE RESULTS
Live results will be available for both meets on the track and field schedule page at hawkeyesports.com.
ECKERT, DOUGHERTY TACKLE HEPTATHLON
Senior Jack Eckert and redshirt freshman William Dougherty had strong showings at the Husker Invite in Lincoln, Nebraska, on Feb. 6-7. Eckert set a career-high mark in the men's heptathlon, including a first-place finish in the event's 1,000 meters (2:43.40), to finish fourth overall. He tallied a total of 5,172 points, which ranks third in school history and seventh in the Big Ten. Dougherty finished seventh, respectively, in his heptathlon debut with a mark of 4,991. His performance lands sixth on Iowa's all-time list and 10th in the conference rankings.
AMOSU, BOTE GONZALEZ LEAD HAWKEYES
Sophomore Marta Bote Gonzalez and senior Babatunde Amosu led Iowa at the Husker Invite on Feb. 7. Bote Gonzalez was crowned champion in the women's 3,000 meters (9:51.82), while Amosu took the title in the men's triple jump (49-05.00, 15.06m).
GUSTER ON THE RISE
After being named to Iowa's 24 Hawkeyes to Watch list on Feb. 5, sophomore Elexis Guster sprinted her way to a second-place finish (54.20) in the women's 400 meters at the Husker Invite on Feb. 6-7. She holds the fourth fastest time at Iowa in the event (54.08), which she recorded at the 2014 Big Ten Indoor Championships with a third-place finish overall.
800-METER TAKEOVER
Five current Hawkeyes — sophomore Katharina Trost (4), sophomore Mahnee Watts (5), senior Adrianne Alexia (6), junior Kaitlyn Nelson (8), and junior MonTayla Holder (9) — have personal-best 800-meter times that rank within the top ten at Iowa. Trost raced to third place in the special invite section at the Husker Invite on Feb. 7, posting a time of 2:10.94, while Watts (2:13.99) came in fifth, respectively.
ON THE LEADER BOARD
Senior Kevin Lewis remains the Big Ten leader in the men's 3,000 meters for the third consecutive week. He was crowned the school-record holder at the UW Invitational in Seattle on Jan. 31 when he crossed the line in 7:57.06. He is the first Hawkeye to break the eight-minute barrier. That time currently ranks 13th in the nation, respectively.
BIG TEN RANKINGS
Five Hawkeyes and one relay are ranked among the top five in the conference.
1. Kevin Lewis — 3,000 meters (7:57.06)
3. MonTayla Holder — 600 meters (#1:30.61)
4. Lake Kwaza — 60-meters (7.42)
5. Elexis Guster — 400 meters (54.20)
5. Guster, Watts, Holder, Kwaza — 4×4 Relay (3:39.30)
5. High Jump Kevin Spejcher (7′ 0.5″, 2.15m)
# – converted time
NEXT ON THE BLOCK
The Hawkeyes head to the Alex Wilson Invitational in South Bend, Indiana, and the UNI-Dome Open in Cedar Falls, Iowa, on Feb. 21.