Feb. 11, 2015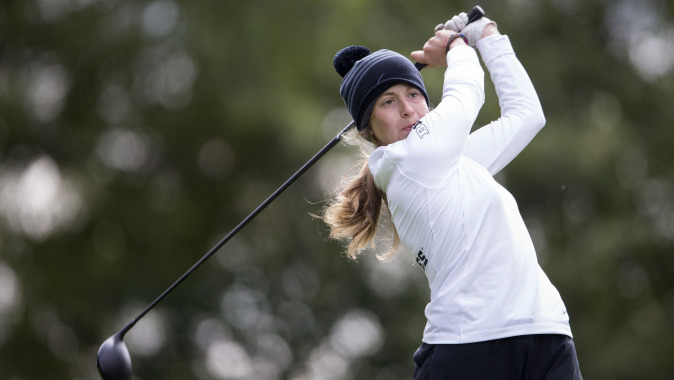 Feb. 11, 2015
Weekly Release

THIS WEEK:
The University of Iowa women's golf team travels to Rio Grande, Puerto Rico to participate in the 2015 Lady Puerto Rico Classic, Feb. 15-17. The tournament, hosted by the University of Purdue, will be held at Wyndham Rio Mar Resort & Rio Mar Country Club- River Course. The 54-hole tournament will begin Sunday at 8 a.m. (CT) with a shogun start. Live scoring will be available throughout the tournament via BirdieFire.com.
LAST TIME OUT:
Iowa competed at the Jim West Invitational in Boerne, Texas, on Nov. 2-4, carding a three-round 934 (320, 311, 303). Freshman Elisa Suarez carded the best finish for the Hawkeyes, posting a three round 231, recording rounds of 84, 77, and 70. She finished tied for 26th.
TOURNAMENT FIELD:
The 15-team field consists of: Arkansas, Auburn, GRU Augusta, Clemson, Indiana, Iowa, Iowa State, Kent State, LSU, Michigan, NC State, Northwestern, Purdue, TCU, and Georgia
HAWKEYES TO WATCH:
Freshman Elisa Suarez leads the Hawkeyes with a team-low 77.1 scoring average. Thus far, Suarez has registered one top-10 finish at the Old Waverly Bulldog Invitational on Oct. 20-22, where she recorded her best outing of her young Hawkeye career, firing a three-round 217 (+1), posting rounds of 72, 71 and 74. Her efforts helped her earn a career best finish (T-4th), one stroke off third. Suarez also has two top-20 finishes to her name. Right behind her teammate in the low round average category is Jessie Sindlinger with a 77.3 average. Sindlinger finished tied for 10th with a total of 232 (85, 72, 75) at the Diane Thomason Invite on Oct. 4-5, her best finish of the fall. Her efforts helped lead Iowa to a second place finish in the field of 13.
LINE-UP:
At the top of the line-up in the number one spot will be Elisa Suarez followed by Jessie Sindlinger in the two spot, Amy Ihm third, Shelby Phillips fourth and rounding out the team will be freshman Jessica Ip. Senior Jessie Jordan will be competing as an individual. Suarez, Sindlinger, Ihm and Ip competed in all five competitions during the fall campaign.