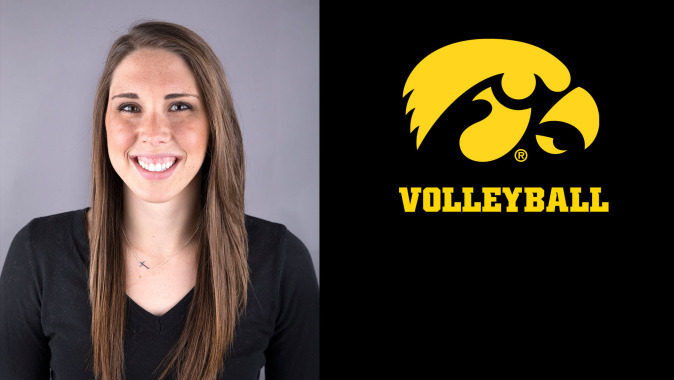 Feb. 12, 2015
IOWA CITY, Iowa — University of Iowa head volleyball coach Bond Shymansky announced the elevation of Danielle Carlson from director of operations to assistant coach today.
"Everything Danielle has ever done as a person and player has been outstanding," Shymansky said. "We were so fortunate to have her on our staff for the past year, and now elevating her to be our interim assistant is a seamless transition.
"Danielle was an outstanding middle blocker as an Honorable Mention All American, and she was a first team Academic All American, so I know she is smart, diligent, motivated, passionate and a winner. She has a great presence in the gym as a trainer, and has a warm and welcoming personality with the team and with recruits. I have always known Danielle to be a leader of integrity, intelligence and inspiration."
Carlson replaces Jackie Simpson, who was named head volleyball coach at George Mason Thursday.
"I'm thrilled to serve in this new capacity in the Iowa volleyball program," Carlson said. "I feel I was fortunate to play under Bond as a student-athlete, and now I'm so humbled to work with him as a colleague. I'm excited for the opportunity to continue to develop greatness in Iowa volleyball."
Carlson joined the Hawkeye coaching staff following a professional volleyball career in the Gislaved Volleyball Klub of Gislaved, Sweden. She also played collegiate volleyball for Shymansky at Marquette from 2009-12.
While at Marquette, Carlson helped the team to its first two NCAA Tournament appearances and served as team captain during her senior season. The two-time AVCA All-American also excelled in the class room, garnering Capital One Academic All-American accolades in 2012 and Big East Conference Scholar-Athlete Sport Excellence awards in 2011 and 2012. She also earned the Big East Conference Institutional Female Scholar-Athlete Award, was a Helen Way Klinger College of Arts and Sciences Outstanding Senior Award nominee, received the Marquette University Cura Peronalis Award and was a Senior CLASS Award nominee in 2013.
After graduating from Marquette with a bachelor of arts in psychology and theology, Carlson continued her volleyball career professionally for Gislaved Volleyball Klub. She competed in the Swedish Professional Elite Series League and also organized and led weekly junior high and high school volleyball clinics during her time overseas.
In addition to a decorated playing career, Carlson also has experience coaching at the club level for Adrenaline Volleyball Academy in Cedar Rapids, Iowa.