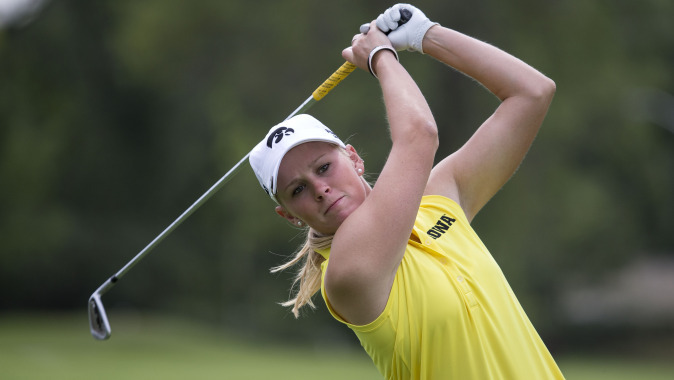 Feb. 12, 2015
Q: What is it like working with coach Menzel and coach Selders?
A: Coach Menzel has such a positive attitude and she pushes me to get better each and every day. The rest of the Iowa coaching staff is very encouraging and will always help me when I need it.
Q: What led to you to Iowa City and the Hawkeye golf program?
A: The academics and athletic programs are very strong here. I loved the visions and expectations that coach Menzel and the rest of the athletic department had for this golf program, and I wanted to contribute and be a part of that success.
Q: What facet of your game has improved the most since last spring?
A: My mental game has really improved with the help of coach Menzel and my mental skills coach.
Q: What are the team goals for the spring season?
A: We want to be a winning team this spring season. Our ultimate goal is to make it to Regionals and place in the top three at the Big Ten Tournament.
Q: What did you do over the winter break?
A: I went to Park City, Utah to ski with my family over Christmas.
Q: What was your favorite golf memory growing up?
A: Golfing with my dad every weekend and playing in father-daughter competitions as a team.
Q: What was the last movie you saw in theaters and what did you think of it?
A: The last movie I saw was American Sniper. I loved it because it was such a great story.
Q: What do you like to do in your free time?
I like to study, play cards, watch movies, and spend time with my friends.
Q: What is your favorite home-cooked meal when you go home and why?
A: Lasagna because I love pasta and my mom makes the best lasagna dish I have ever had.
Q: What is your favorite Hawkeye memory so far?
A: My favorite Hawkeye memory so far has been playing in our home tournament, the Diane Thomason Invitational, at Finkbine. It is great to see all the Hawkeye fans come and support our team.