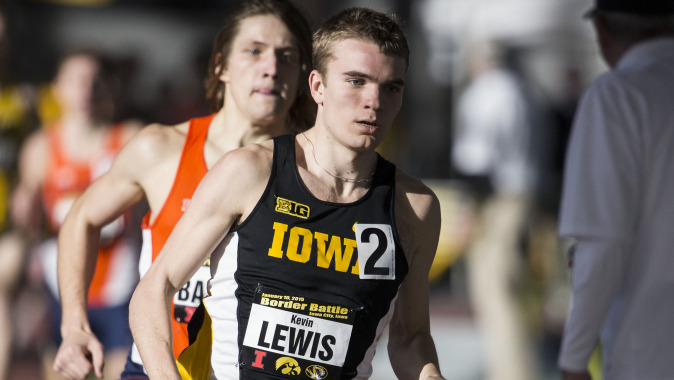 Feb. 13, 2015
Complete Results

AMES, Iowa — Senior Kevin Lewis rewrote the record books for the second time this season on Friday at the Iowa State Classic in Ames, Iowa.
The Ottumwa, Iowa native, became the fastest Hawkeye to ever run the men's 5,000 meters when he crossed the line in 13:43.70, shattering the previous school record of 13:56.46 held by Micah VanDenend in 2007. Lewis' time would rank first in the Big Ten and sixth in the nation. He grabbed a fourth-place finish overall.
He also currently leads the conference in the 3,000 meters with a time of 7:57.06, which he set at the UW Invitational in Seattle on Jan. 31. That mark ranks 13th nationally.
"Breaking the 3k school record gave me more confidence that I could break the 5k school record, although I had higher hopes than breaking the school record going into tonight's race," Lewis said. "I wanted to run in the 13:40s and have the chance to qualify for the NCAA meet. I think I accomplished that."
"[Lewis] is certainly very deserving of his success," head coach Layne Anderson said. "Coach Wieczorek and Kevin set a tremendous foundation in place prior to this year and these performances are years in the making."
The Hawkeyes recorded three season best performances off the track. Sophomore Kassidy Ellis leaped to a new personal best 18-01.50 (5.52m) in the women's long jump to finish eighth, respectively, while sophomore Madison Rouw (5-04.25, 1.63m) competed in the women's high jump and finished 11th overall.
Senior Annemie Smith captured a sixth-place finish in the women's weight throw (58-03.00, 17.75m). Senior Jack Eckert finished 13th in the men's pole vault at 14-11.50 (4.56m).
Iowa resumes competition on Saturday beginning with running events at 9:30 a.m. (CT) inside the Lied Recreational Center on the Iowa State campus.