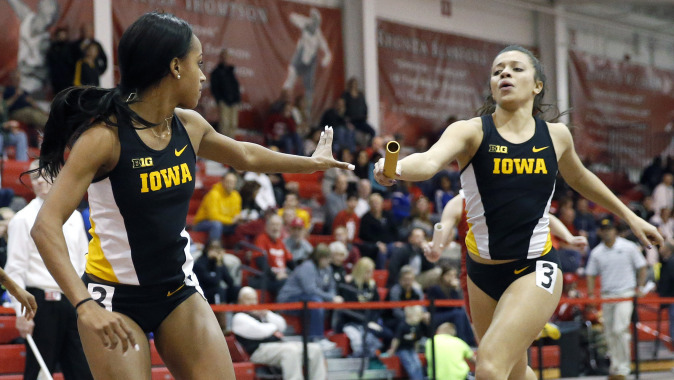 Feb. 14, 2015
Full Results

FAYETTEVILLE, Ark. — The University of Iowa track and field team competed eight individuals and one relay in day two of the Tyson Invite in Fayetteville, Arkansas, on Saturday.
Senior Babatunde Amosu captured silver in the men's triple jump with a personal best leap of 15.84 meters. That mark lands third in the Big Ten and 19th in the nation. His name appears fourth on Iowa's all-time rankings. Junior Klyvens Delaunay jumped 15.14 meters to finish 11th, respectively.
Junior James Harrington grabbed a 15th-place finish in the men's 200 meters with a new season best 21.31. That time ranks fourth in the conference. Sophomore Aaron Mallett (39th/21.77), junior Brendan Thompson (41st/21.79), and sophomore Jared Ganschow (50th/22.08) also competed in the event.
Senior Lake Kwaza hit 24.14 in the women's 200-meter race to finish 35th overall, while sophomore Brittany Brown (24.21) placed 38th, respectively.
The quartet of Kwaza, sophomore Elexis Guster, junior MonTayla Holder, and sophomore Mahnee Watts clocked 3:37.84 in the women's 1,600-meter relay to finish 11th, respectively.
"Guster and Holder ran PR's yesterday in the women's 400 meters and came back today with great performances in the 4×4," director of track and field Joey Woody said. "This was a much better weekend for our men's and women's teams overall at both the Tyson Invite and the Iowa State Classic. We made some big strides this week and now have some solid momentum going into the next two weeks leading into the Big Ten Championships."
The Hawkeyes travel to Cedar Falls, Iowa, for the UNI-Dome Open on Feb. 20, and South Bend, Indiana, for the Alex Wilson Invitational on Feb. 21.