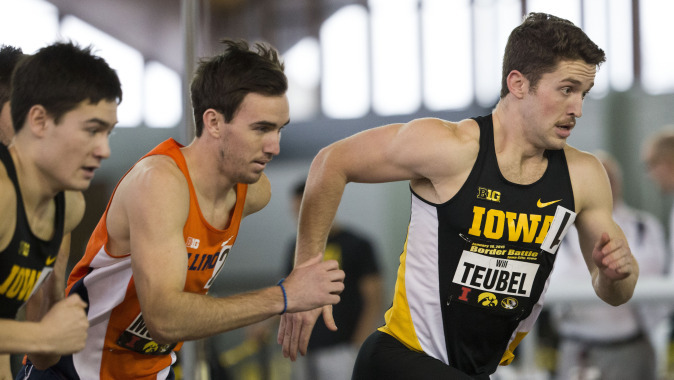 Feb. 14, 2015
Full Results

AMES, Iowa — The University of Iowa track and field team logged nine personal bests at the Iowa State Classic in Ames, Iowa on Saturday. The event was held inside the Lied Recreation Center on the Iowa State campus. No team scores were tallied.
Junior Will Teubel cruised to a new career best time of 1:49.40 in the men's 800 meters to place ninth, respectively. That mark would rank fourth in the Big Ten and is the fifth-fastest time in school history.
"It's been a frustrating indoor season so far, so it feels really good to set a PR for both indoor and outdoor in my first race back," Teubel said. "This race gives me a lot of momentum heading into the next two weeks and sets me up to run well at the Big Ten Championships."
Katharina Trost led Iowa in the women's 800 meters. The sophomore raced to an 11th-place finish overall in 2:08.05. Her time currently ranks fourth in the Big Ten. Former Hawkeye standout Bethany Praska took the title, setting a new meet record in 2:03.17.
"I think we finally turned the corner with a couple of people," assistant coach Jason Wakenight said. "I thought Trost and Teubel ran fantastic. They executed the race really well and did what they needed to do. Those are the type of performances that make a difference and could land them in the finals [of the Big Ten Championships]."
Senior Ben Witt and freshman Michael Melchert clocked new career-best performances in the men's 3,000 meters. Witt, of Burlington, Iowa, posted a 10-second improvement when he crossed the line in 8:10.87, a time that would rank eighth in the conference and falls sixth on Iowa's all-time list. Witt and Melchert (8:27.09) finished 18th and 34th, respectively.
Sophomore Marta Bote Gonzalez competed for the Hawkeyes in women's race, posting a 3,000-meter time of 9:56.96 to finish 29th, overall.
Junior Kevin Spejcher jumped a height of 7′ 0.75″ (2.14) in the men's high jump to finish fourth, overall. He owns the third highest mark in school history at 7′ 0.5″ (2.15m). Sophomore Madison Rouw tied her season-best performance in the women's high jump, posting 5-04.25 (1.63m).
Junior Kassidy Ellis grabbed an eighth-place finish in the women's long jump with a new personal best leap of 18-01.50 (5.52m).
In the men's 400 meters, junior Mitch Wolff raced to a sixth-place finish in a new personal best of 48.12. Sophomore Sheridan Champe improves upon her personal best in the women's race, clocking 58.05 to place ninth, respectively.
The Hawkeyes received a pair of personal best performances from junior Anne Reischmann and sophomore Tess Wilberding in the women's mile. Reischmann clocked 5:01.00 to finish 32nd, while Wilberding finished 34th in 5:01.57, respectively. The men's race was led by junior Sam Fourman, who clocked a new personal best time of 4:10.50 (31st).
Senior Gabe Hull (56-06.50, 17.23m) and sophomore Alexa Hunt (44-06.25, 13.57m) captured eighth-place finishes in the men and women's shot put.
Freshman Leah Colbert grabbed a 13th-place finish in the women's weight throw with a toss of 48-10.75 (14.90m).
The Hawkeyes return to action next weekend with the UNI-Dome Open in Cedar Falls, Iowa, on Feb. 20, and the Alex Wilson Invitational in South Bend, Indiana, on Feb. 21.