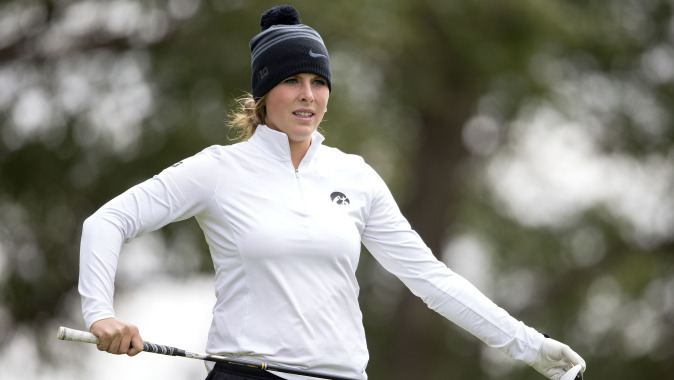 Feb. 15, 2015
RIO GRANDE, Puerto Rico— The University of Iowa women's golf team finished day one of the Lady Puerto Rico Classic on Sunday on the River Course at Wyndham Rio Mar Resort & Rio Mar Country Club, registering a first round 317 (+29). The Hawkeyes sit 14th, five strokes behind Michigan, in the field of 15 teams following 18 holes, with two more rounds to play on Monday and Tuesday. Arkansas (+2) leads the event, followed by Kent State in second.
Junior Amy Ihm and freshmen Elisa Suarez and Jessica Ip registered the best finishes for the Hawkeyes with an 18-hole 79 (+7), tying for 55th. Ihm birdied two of the front nine holes, while making par on nine of the first 18 holes. Ip registered pars on 12 of the first 18 holes, while her teammate Suarez birdied two on the front nine before tallying par on eight total holes.
Senior Shelby Phillips was the next best finisher for Iowa, carding an 18-hole 80 (+8). Phillips is followed byJessie Sindlinger who posted a first round 81 (+9), and is tied for 67th.
Rounding out the action for Iowa was Jessie Jordan, competing as an individual. The senior tallied a round one score of 89 (+17).
The Hawkeyes continues action on Monday with the second round.