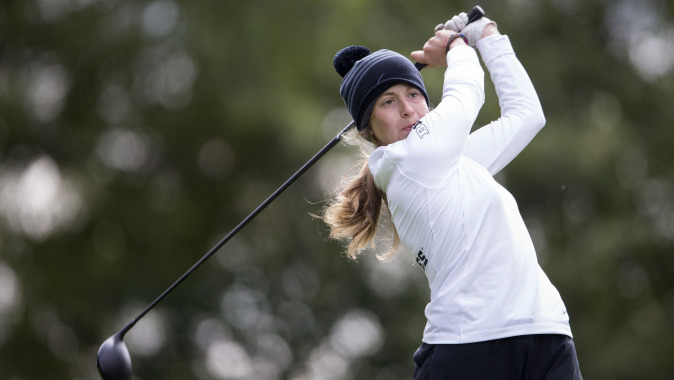 Feb. 16, 2015
RIO GRANDE, Puerto Rico — The University of Iowa women's golf team completed its second day of action at the Lady Puerto Rico Classic on Monday on the River Course at Wyndham Rio Mar Resort & Rio Mar Country Club. The Hawkeyes moved up one spot from day one into 13th, after tallying a second round 307 (+19), Iowa's two-round total is 624 (+48). With one round left on Tuesday, Arkansas leads the event (+9).
Freshmen Elisa Suarez, Jessica Ip and junior Amy Ihm for the second straight day lead the Hawkeyes. All three carded an 18-hole 76 (+4) moving up nine spots from day one. To sit tied for 46h. Suarez birdied holes 13 and 14 while also making par on 12 total holes. Ihm managed birdies on two holes, one on the front nine, hole four and one of the back nine, hole 15. Ip registered par on 10 total holes.
Shelby Phillips and Jessie Sindlinger, each ended round two tying for 65th. Sindlinger carded a second round 79 (+7) while Phillips tallied a second round 80 (+8).
Finishing up the competition for the Hawkeyes was Jessie Jordan, competing as an individual. The senior shot a second round 83 (+11).
Iowa will conclude action on Tuesday at 7:30 a.m. (CT) with a shotgun start for the third and final round.