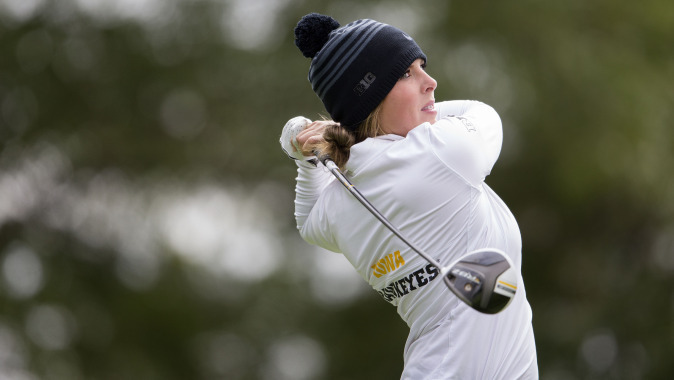 Feb. 17, 2015
Final Results

RIO GRANDE, Puerto Rico — The University of Iowa women's golf team concluded competition at the Lady Puerto Rico Classic on Tuesday, finishing 13th overall.
After posting a first-round 317 (+29) on Sunday, the Hawkeyes were able to improve in the second round posting a 307 (+19) on Monday, before finishing with a third-round 309 (+21) on Tuesday. Iowa finished with a three round total of 933 (+69), one stroke behind Georgia for 12th. Arkansas won the tournament, tallying a three-round 876 (+12), followed by Louisiana State University in second.
"This was a good first trip for us. It was a great opportunity for us to play against the best teams in the country and see where we need to get better. Our players felt more comfortable each round and we look forward to building on it this weekend in Arizona," said UI head coach Megan Menzel.
Amy Ihm carded the best finish for Iowa. The junior improved and stayed consistent every round, registering a three round total of 231, posting rounds of 79, 76 and 76. Ihm birdied holes six and 15 in the third round, finishing the weekend tied for 44th.
"Getting back on the grass took a little adjusting, but our goal was to get better every day and gain confidence. Individually, I wanted to focus on fundamentals and getting into a solid rhythm. I am looking forward to Arizona in a couple of days. We want to continue to get better," said Ihm.
Elisa Suarez was able to finish just behind her teammate, tied for 49th. The freshman tallied a total 232, with rounds of 79, 76 and 77. Jessie Sindlinger improved from round-to-round. After a first-round 81 on Monday, the sophomore tallied a second-round 79 on Tuesday before ending the competition with a third round 76, finishing tied for 61st with a total 236.
Jessica Ip carded a three round 239, registering rounds of 79, 76 and 84. Shelby Phillips finished one stroke behind Ip tallying a three round 240. Jessie Jordan rounded out the action with a total of 253.
Next up for the Hawkeyes is a trip to Peoria, Arizona to compete in the Westbrook Spring Invitational, Feb. 22-23.