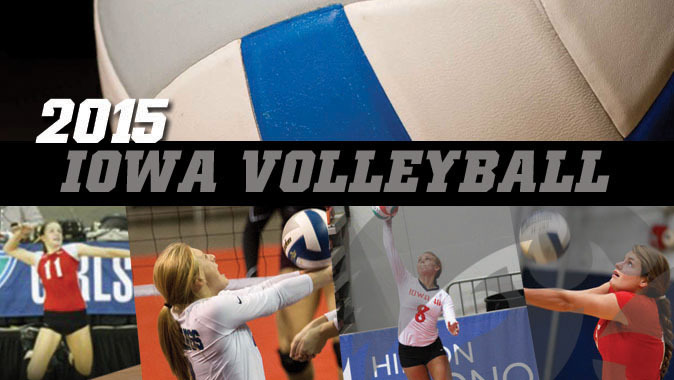 Feb. 17, 2015
IOWA CITY, Iowa — University of Iowa head volleyball coach Bond Shymansky announced the addition of four freshmen to the 2015 roster in Reghan Coyle, Reagan Davey, Molly Kelly, and Libby Koukol. Shymansky is excited for the impact these student-athletes will have and the progress of the program.
"The 2015 team is shaping up to be strong and we'll keep getting stronger," Shymansky said. "This is the process of evolution for our program as we're striving to win the Big Ten. We're glad that the players we're adding have something to contribute that is significant to our lineup in the immediate future."
Coyle is a two-time second team all-state, all-district, all-city, first team All-Western Iowa, and first team all-conference honoree from Lewis Central. The 6-foot right side/middle blocker was also named to the Iowa Girls Coaches Association All-Start Team as a senior.
The Council Bluffs, Iowa, native helped the Titans to the 4A State Quarterfinals (2014), a Hawkeye-Ten Co-Conference championship (2012), and a Hawkeye-Ten Conference championship (2011). Coyle posted 27 kills in a match as a senior, marking her career best.
Coyle plays club volleyball for Iowa High Performance. She was part of teams that were Women's International Division Participants in 2014 and USAV Girls' Youth National Division Champions in 2013. Coyle was also named to the USAV Iowa Regional All-Tournament Team in 2012.
Coyle appeared on the Blue Honor Roll and earned an Academic Letter all four years of high school. She is also a Greater Omaha Sports Committee Scholar Athlete Recipient, who is involved in National Honor Society, is the Student Council Vice President, a Lewis Central 5-Star, and a Senior Class Officer.
"Reghan has the capability to play any of the three positions across the front row, which is definitely to her credit," Shymansky said. "Because we can utilize her in so many ways, she's going to find her way onto the court. She's powerful, she's strong and she has a really great temperament.
"She's also getting top level club experience right now, too. I've certainly put big expectations in front of her to be good at all three front row positions, and I already see her developing in that way as she's preparing to come in this fall."
Davey — a 5-foot-9 outside hitter — led Vanguard High School to two 6A state championships, one 6A state runner-up result, and three consecutive district and regional championships. The Ocala, Florida, native was named Miss Volleyball State of Florida Dairy Farmers for 6A (2013), Max Prep AVCA Player of the Week for the state of Florida (2013), and earned a pair of all-academic team honors (2012-13).
Davey plays club volleyball for Ocala Power United. She helped guide the team to a USAV National Championship (2013) and two AAU National Championships (2014, 2012). She has been named to all-tournament teams on four occasions, and the AAU MVP in 2014.
Davey — who was the vertical jump winner at the Big South Qualifier with a 35.5 effort — was inducted into the National Honors Society as a senior and plans to graduate Summa Cum Laude this spring.
"Reagan is dynamic and explosive as an athlete, but she's also incredibly determined and driven as a competitor," Shymansky said. "She does everything with that chip on her shoulder. She's going to prove to people that she can play much bigger than her stature.
"She's a state champion, knows what winning is all about, and understands the level of commitment and determination that's required to be a champion because she's been playing and training every day with one of the best coaches in the country. I know she's going to have a daily impact for our team on and off the court as an outstanding person and competitor."
Kelly is a local product who hails from Iowa City, Iowa. She helped West Liberty qualify for state in 2011, and earn a conference tournament championship in 2011 and 2012. The four-year all-conference honoree holds the school record in digs, serving efficiency, digs in a single match and digs per set.
Kelly also earned first team all-region distinction as a junior and senior, was name honorable mention all-state as a junior, and first team all-state as a senior. In her final season at West Liberty, she was named Player of the Year by Muscatine Journal and Quad City Times and was selected to play on the Iowa Senior All-Star Team. Kelly also led Iowa (3A) in digs per set in 2013 and total digs in 2014.
The 5-foot-4 defensive specialist plays club for the Iowa Rockets. Kelly helped the team accomplish a USA National Championship in Dallas, Texas, in 2013 with current Hawkeye Alyssa Klostermann, a High Performance International Championship in 2012, and a third place result at Nationals in Atlanta, in 2011.
Kelly is a four-year 4.0+ Honor Roll student and a three-year National Honor Society member. She is also a Student Council member, a Student Officer, Class President, and involved in the Dual Language Spanish Program. Black and Gold runs Kelly's family, as her father, Mitchell Kelly, wrestled at the UI from 1982-87 and her cousin, Nicholas Baer, currently plays basketball for the Hawkeyes.
"Molly is your quintessential Iowa girl," Shymansky said. "She's hardworking, humble and unassuming, but is also willing to do the dirty work, dig deep and fight for anything she can provide to help the team win.
"Molly comes from a competitive background and has grown up in a volleyball family with older sisters that have played, but more importantly a Hawkeye family. She is Black and Gold through-and-through, so she'll add an element of ability, but also team spirit and pride to be a Hawkeye."
Koukol led Nebraska Class A in digs and was named third team All-Metro as a senior at Millard North High School. The Omaha, Nebraska, native helped the Mustangs to a fifth place finish at state in 2013.
The 5-foot-6 defensive specialist plays club volleyball for Premier Volleyball Nebraska. She guided the squad to a third place finish at the USA Volleyball National Qualifier in Minneapolis, Minnesota, in 2012, and fifth place results at the USA Volleyball Colorado Crossroads and USA Volleyball Girls' Junior National Championships in 2014 and 2012, respectively.
Koukol lettered in academics and maintained a minimum grade point average of 3.5 throughout high school.
"Libby is a dynamic, quick-moving back row athlete who has fantastic lateral athleticism," Shymansky said. "She's aggressive and gritty. She's not afraid to get on the floor and get after a volleyball. She's a winner.
"She's played volleyball at a high level in high school and has been recognized in the state of Nebraska for her abilities and achievements. We are always seeking players who can help solidify our back row game and Libby is certainly a player that will add a lot to our back row."
The four freshmen join transfer setter Loxley Keala and transfer right side hitter/middle blocker Ashley Mariani next fall. The Hawkeyes return eight letterwinners, including six who spent time in the starting rotation in 2014.